POTSDAMER PLATZ, Sonycenter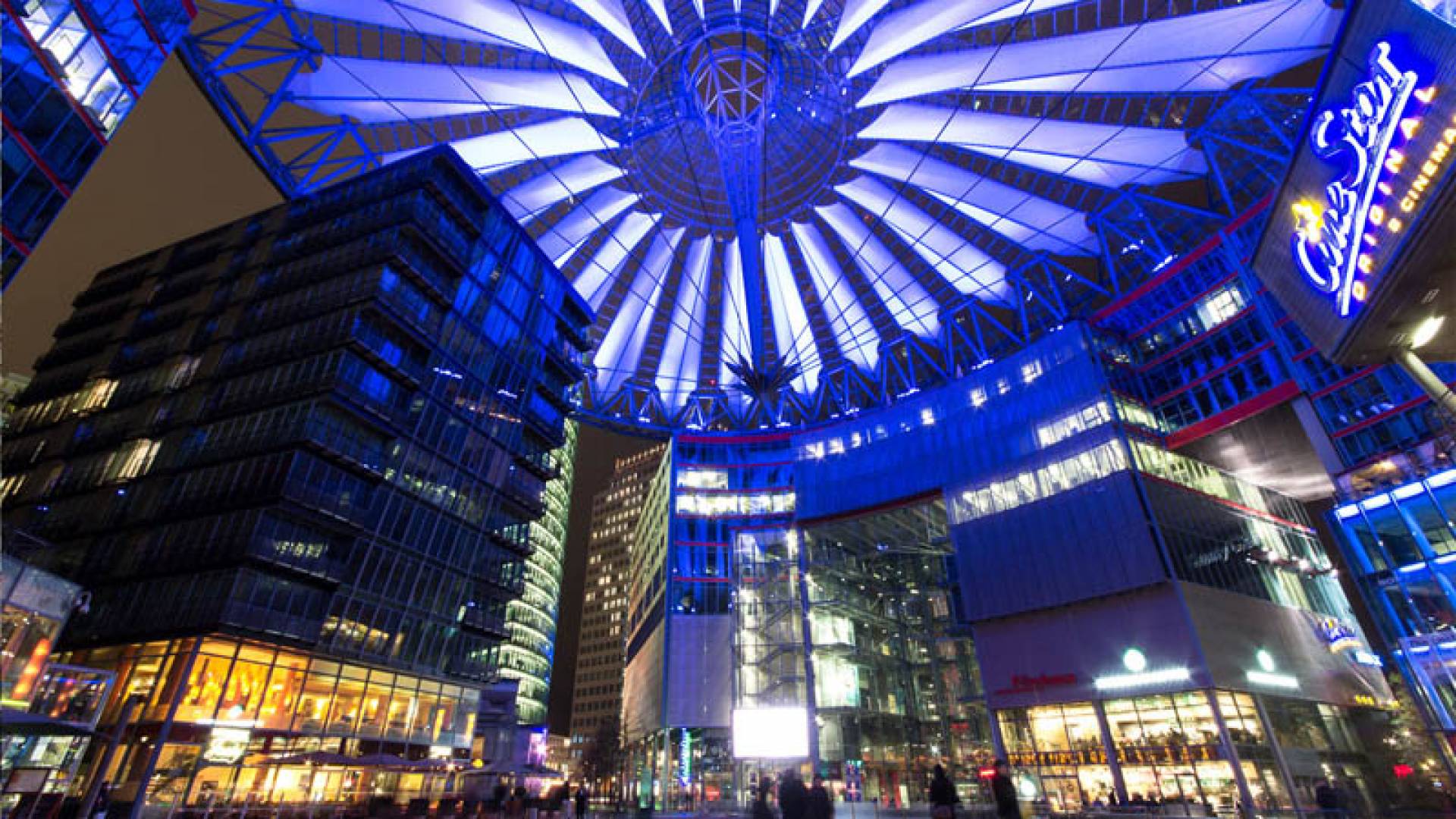 Audio File length: 2.17

Language: English
The Sony Center is one of the most striking, spectacular building complexes in Berlin.
The signature feature of this magnificent, futuristic structure, designed by the German architect Helmut Jahn and inaugurated in 2000, is the gigantic roof, with a shape inspired by Mount Fuji in Japan, as an homage to Sony's homeland.
From the inside, the roof is even more spectacular: when you look up, you'll be stunned at how magnificent it is. It is made up of glass panels that come together to create a transparent structure reminiscent of the big top of a circus, below which visitors can enjoy a variety of shops, bars, restaurants, cinemas and many other attractions. The roof is particularly alluring at night, when the surfaces come alive with the marvelous light effects devised by the Parisian artist Yann Kersalé.
Where the Sony Center now stands was once the site of the Grand Hotel Esplanade, destroyed by bombing raids during the Second World War. The facade of the building, which survived the bombings, has been integrated into the complex, and is now visible from Bellevuestrasse. Another survivor of the wartime destruction is Kaisersaal, the hall of the Emperor William II; in 1996, impressive technology was used to lift the entire hall and move it 75 meters into the building where it can be seen today.
Another must-see in the Sony Center is the Museum für Film und Fernsehen, the cinema and television museum, which illustrates the long, glorious history of German cinema. Next to the museum is the Legoland Discovery Center, a theme park exclusively featuring characters built with the famous colored play bricks.
Among the other attractions at the Sony Center, there is a cinema with a huge screen for 3D movies.
An interesting fact: the Sony Center, together with the Theater am Potsdamer Platz in the nearby Marlene Dietrich Platz, is the main venue for the Berlinale, the Berlin International Film Festival. It is one of the most important festivals of its kind in the world and each year sees the participation of world-famous actors and directors competing for the famous Golden Bear Award.