BASILICA OF SANTA CROCE, Introduction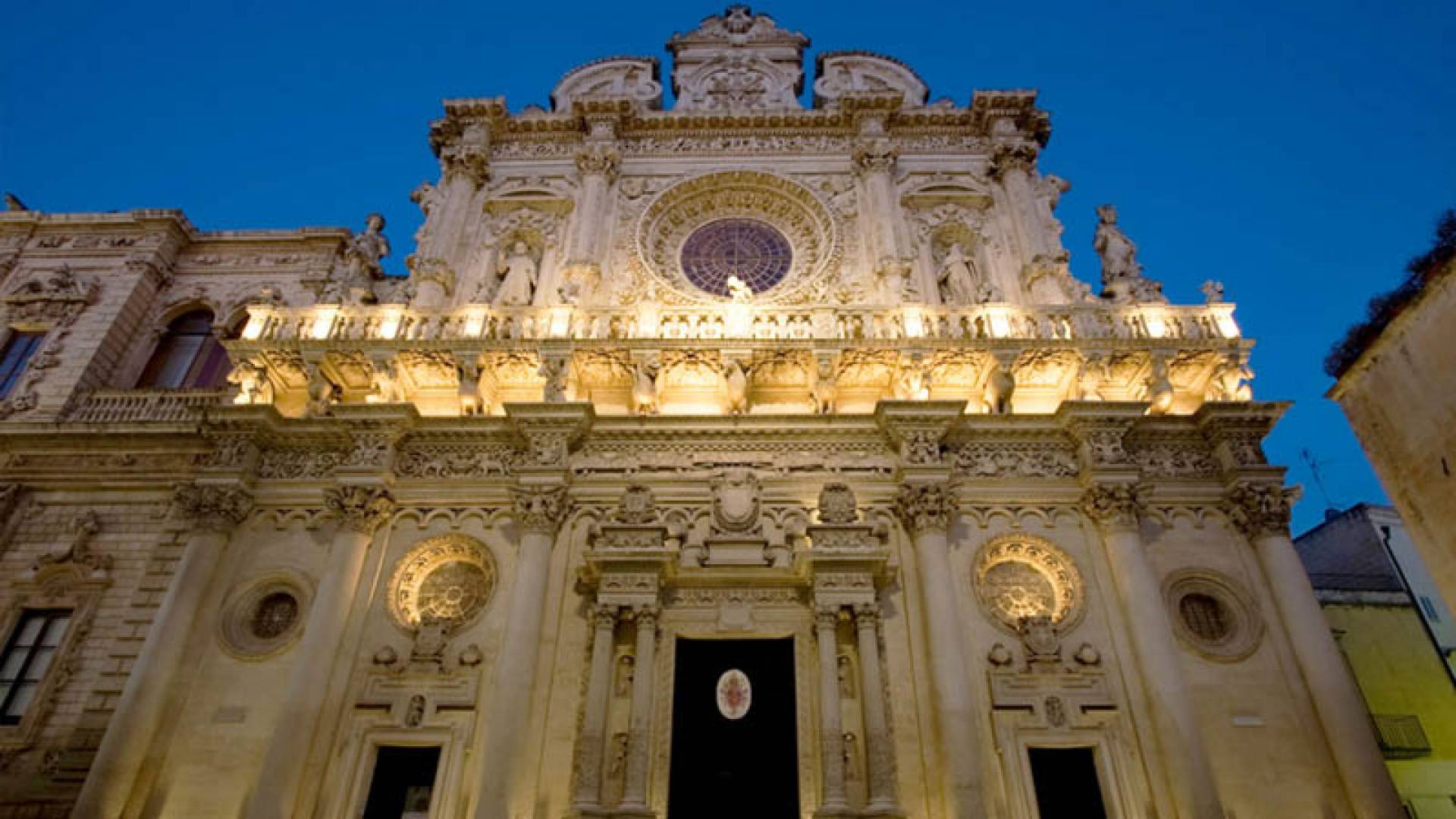 Audio File length: 2.32

Language: English
Between the 16th and 17th centuries, Lecce and the Salento were ruled by the Spanish, and an original Baroque style flourished in the city, characterized by intricate decorations on the outside of the buildings, influenced by the rather elaborate Spanish style of the time. Lecce Baroque, however, embellished its buildings with numerous relief elements and sculptures of formidable expressive power, with no equal anywhere else in the world, because they were crafted in a very soft limestone known as "pietra leccese", perfect for sculpting.
Among the most famous architects and sculptors who adopted this distinctive Baroque style were Gabriele Riccardi, Francesco Antonio Zimbalo, Giuseppe Zimbalo and Cesare Penna, who all worked one after the other on the Basilica of Santa Croce between 1548 and 1689.
Work on the Basilica was begun by Gabriele Riccardi, whom we have to thank for the splendid lower part of the facade. Riccardi was responsible for the incredible cornice supported by human and animal figures, fantastic creatures and imaginary monsters depicted in the act of sustaining the balustrade and reminiscent of the animal figures seen in medieval churches.
Much enamored of the grand Romanesque tradition of his home area which flourished in the Middle Ages, Gabriele Riccardi incorporated a number of its elements into the church, as you can see by looking closely at the small arches under the magnificent cornice. This may have been an "old-fashioned" detail, but it was well received in Lecce, where more innovative architecture was viewed as a foreign imposition on the local culture.
Work on the facade came to a halt, however, in 1582, while the dome was completed eight years later, in 1590.
An interesting fact: if you count the bizarre figures supporting the balustrade, you'll see that there are 13 of them. This is no coincidence, and is a reference to the figures present at the Last Supper: Christ plus the 12 apostles. Here, however, you can see 13 different figures, bent from the effort of holding up the balustrade; above them are thirteen winged cherubs, triumphantly bearing the symbols of both temporal power – such as the royal crowns – and spiritual power, such as the bishops' miters.