ST. AMBROSE CHURCH, Introduction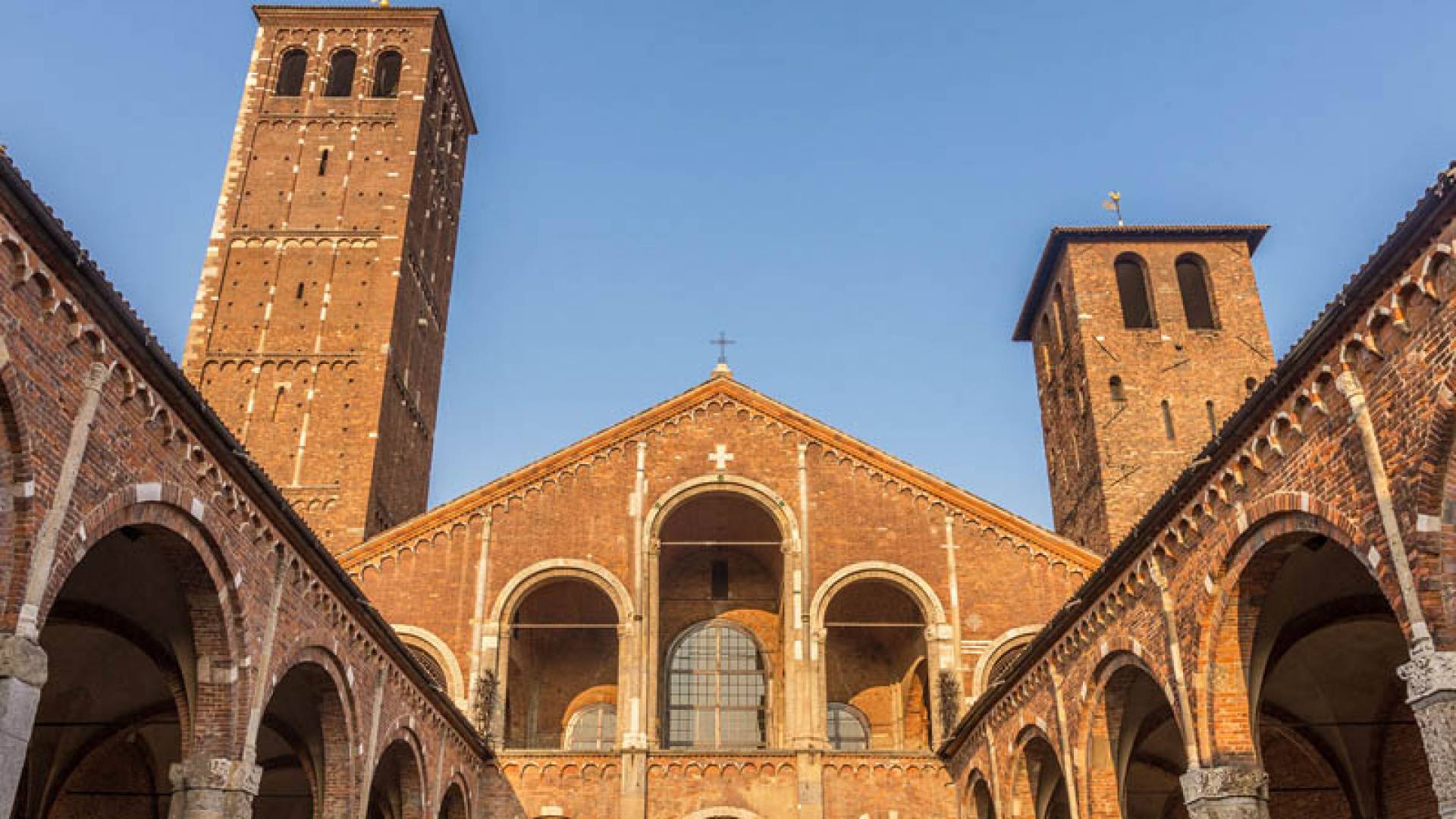 Audio File length: 2.07
Author: STEFANO ZUFFI E DAVIDE TORTORELLA

Language: English
St. Ambrose is one of the oldest churches in Milan!
You are standing before the basilica dedicated to the city's patron saint, which is a fundamental model of medieval architecture thanks to its "Lombard Romanesque" style.
This ancient brick church now stands in the city's historical center, but when the city was much smaller it was situated in its suburbs. For this reason, it was where the early Christian martyrs were buried and where Saint Ambrose decided to build a place of worship, which would be dedicated to him later on. Luckily for you, after much controversy the square was almost completely closed to traffic some years ago: cars disappeared from the underground parking lot, and so you stand in a beautiful garden full of trees, admiring the reddish profile of the church immersed in vegetation.
But let me tell you a little bit about Saint Ambrose. He was born in Trier at the time of the Roman Empire, which is located in modern-day Germany, and his father was a high-ranking government official. Since the Emperor's court had moved from Rome to Milan, Ambrose moved to this city to pursue his career in the imperial administration. In just a few years he managed to establish himself as a great moral authority, able to firmly stand up to the Emperor, to the point that by popular acclaim the Milanese had declared him a Bishop.
The church you are admiring today with the two bell towers of different heights was mostly built between 1000 and 1100, changing and incorporating the basilica dedicated to the martyrs that was originally founded by St. Ambrose. Despite a few subsequent modifications and repeated restorations, the basilica looks like a full-blown medieval building: inside you'll discover real treasures and even some parts of the ancient 4th century building.
FUN FACT: Ambrose was only a few months old when a swarm of bees put honey on his lips. For this reason, he is still the protector of beekeepers today.