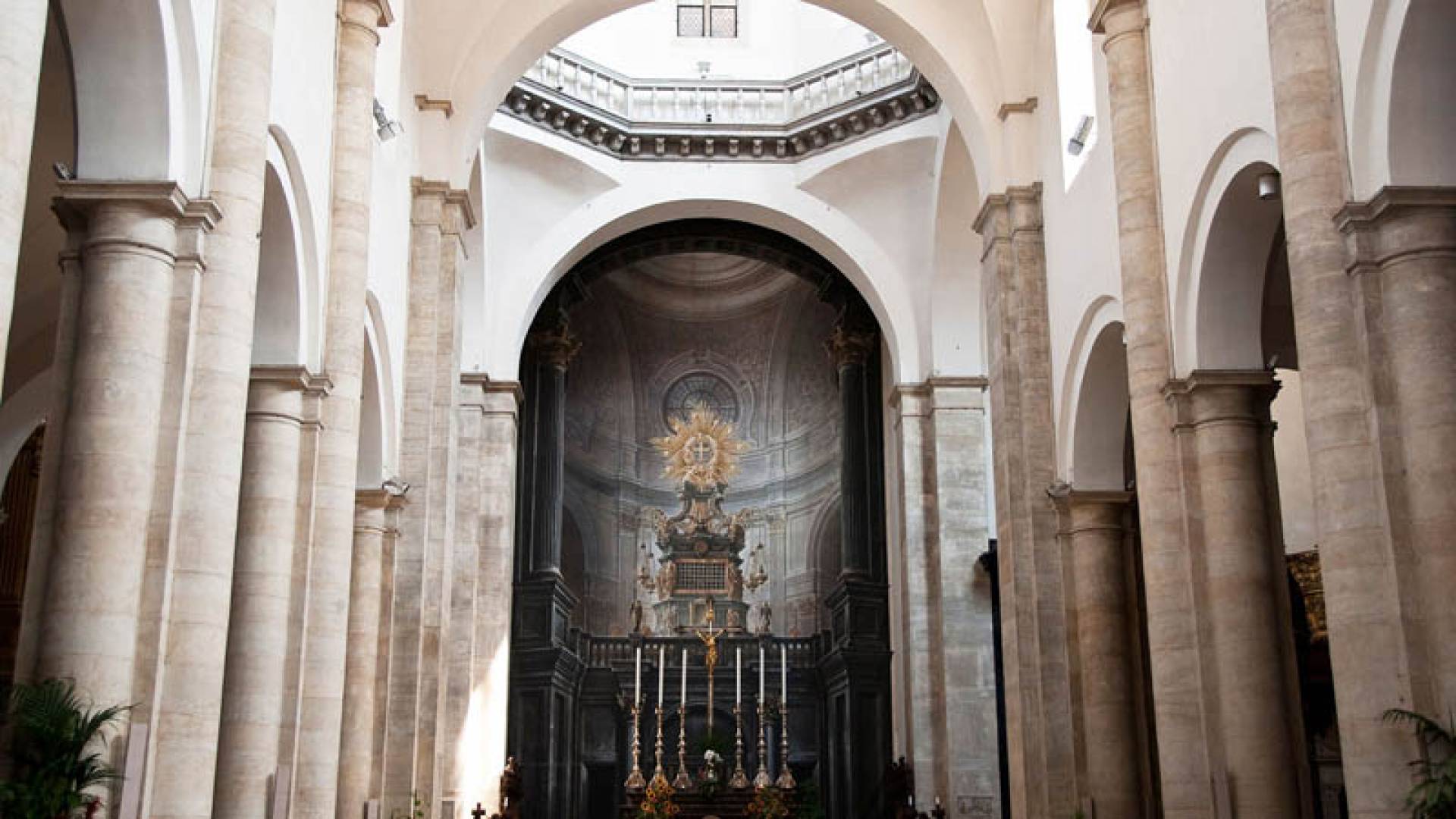 Audio File length: 2.25
Author: STEFANO ZUFFI E DAVIDE TORTORELLA

Language: English
In Turin's Cathedral, white dominates everywhere; once inside you'll find yourself immersed in a pure white light that runs along the walls and their alternating elegant pillars and columns that extend to the ceiling. The arcades draw your eyes towards the high altar, and behind it, the scenery that precedes the chapel of the Shroud of Turin.
The Cathedral's Renaissance structure was designed by the Florentine architect Meo del Caprina in a simple and coherent manner in the last decade of the 1400s, although as I mentioned, various interventions and decorative embellishments were added in the following centuries. The side altars offer a view of many Baroque paintings and sculptures, and are typical examples of the House of Savoy's taste in the 1600s and 1700s.
Right after the entrance, leaning against the façade between the right and central door, you can admire the Cathedral's most beautiful sculpture: it is the Tomb of Giovanna d'Orlier de la Balme, a French work from the 1500s, which was conceived as a stylish niche containing a statue of the deceased noblewoman kneeling in prayer.
If you prefer painting, go near the altar of the second chapel on the right to admire the many panels comprising the rich Altarpiece of Saints Crispino and Crispiniano, the patron saints of cobblers, which was commissioned by the Association of Shoemakers in the early 1500s. The small narrative scenes are quite interesting; they once formed the side doors of the work of art.
Up high at the end of the left nave you can see the Royal Gallery: it's a rich 18th century balcony reserved for members of the Savoy family, who could come directly from the Royal Palace to attend mass here.
At the back of the Cathedral behind the high altar and wooden choir seats, you'll notice a curious "perspective", that is, a painting that simulates an architectural structure that doesn't exist. In fact, the Cathedral and the Chapel of the Shroud of Turin are integral.
FUN FACT: earthquakes are really rare in Turin, but the Archdiocese of the Cathedral though you could never be too safe, and commissioned a study on the seismic vulnerability of the bell tower. Once it's completed, they'll simulate an earthquake to see if the bell tower stands!