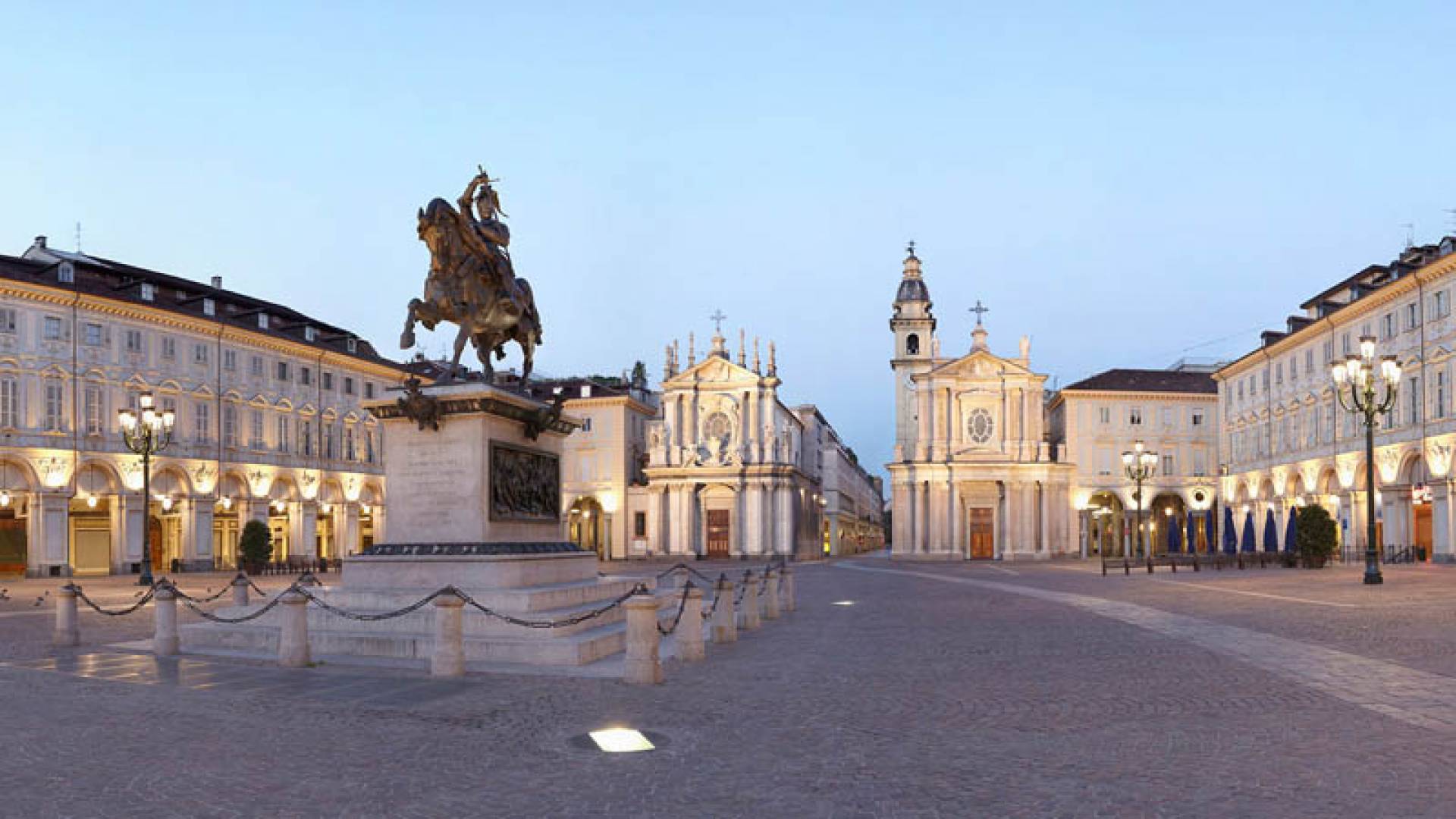 Audio File length: 2.12
Author: STEFANO ZUFFI E DAVIDE TORTORELLA

Language: English
Today I'll accompany you through Piazza San Carlo, which is the elegant "living room" of Turin!
The Savoy dynasty is linked to France for various historical reasons; Turin's many monuments and urban characteristics reflect French taste, especially in the Baroque age. If you've been to Paris it won't take you long to notice that Piazza San Carlo, the city's most harmonious square, has an unmistakable Parisian appearance, and was indeed openly inspired by the famous "Place Royale".
You should know that Piazza San Carlo has held many roles over the centuries: it's been the location of a bustling market, the meeting place of nobility, and a military parade ground. It was also a convenient parking lot, but thankfully it has been closed to traffic since 2004, which lets you truly take in its aristocratic and refined tone. Works on its paving have unearthed interesting architectural remains from different periods, including Roman ruins and a World War II air raid shelter.
Look how even and harmonious it is, entirely surrounded by porticoes!
It was built in the first half of the 1600s. On the two long sides with porticoes, you can see some beautiful Baroque palaces. In the center on a high pedestal you can see the impressive Equestrian Monument of Emanuele Filiberto, the 16th-century commander who decided to move the capital of the Duchy of Savoy to Turin. The sculpture is popularly called "The Bronze Horse", and is a typical meeting place for dates!
On the opposite side of Piazza Castello next to via Roma, you can see two symmetrical Baroque churches. Even if they're called "twins", if you look carefully you'll notice some differences. The one on the right dedicated to San Carlo Borromeo is a little older and has a bell tower. The one on the left is the Church of Santa Cristina, and has a beautiful façade designed by Filippo Juvarra in the early 1700s.
FUN FACT: you should know that the great San Carlo Borromeo walked from Milan to venerate the Shroud of Turin. Maybe that's why Emanuele Filiberto brought the sacred shroud from Chambéry to Turin: to shorten his trip!