LOUVRE MUSEUM, Caravaggio Death Of The Virgin Denon Wing Hall 11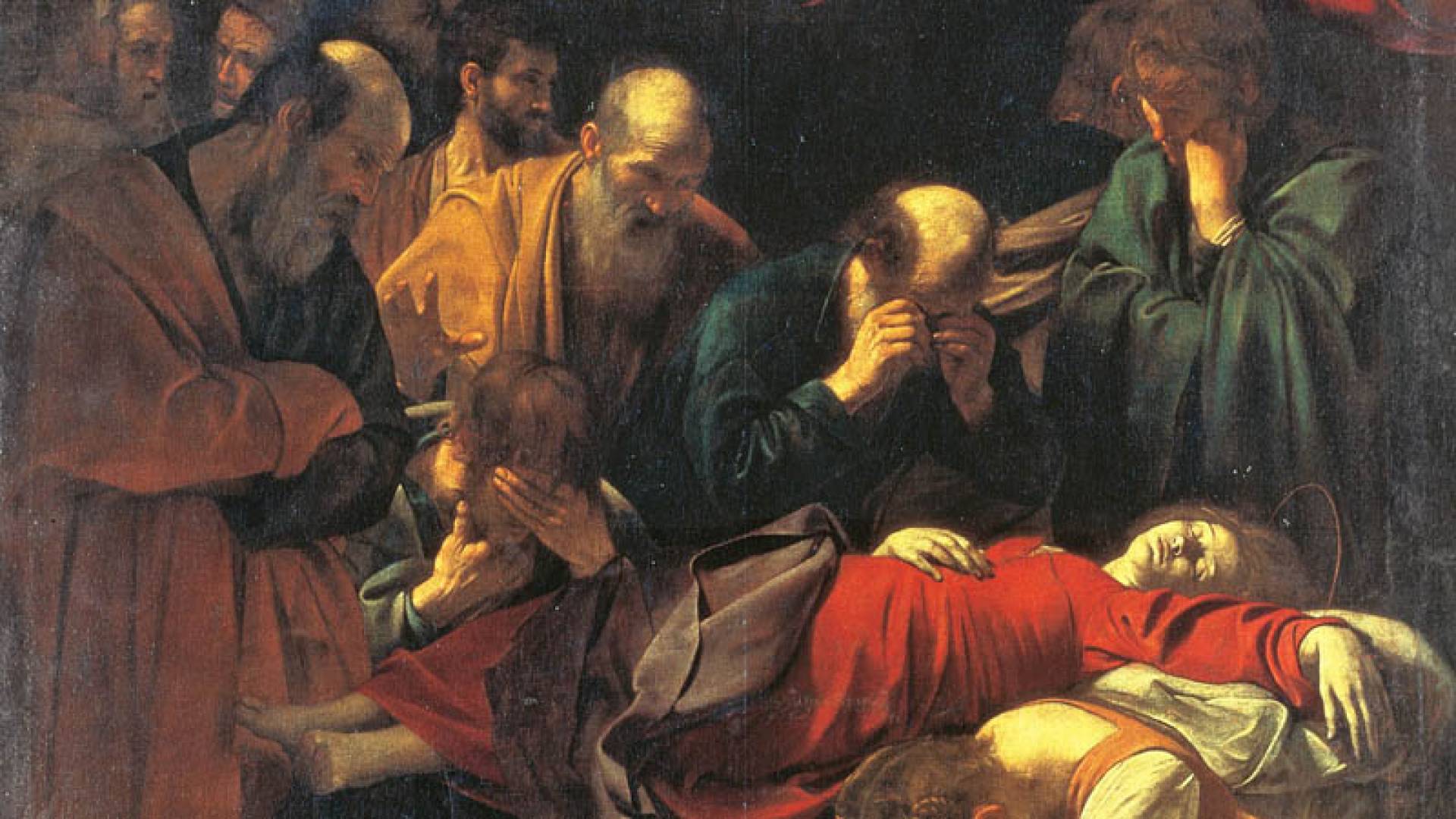 Audio File length: 2.47
Author: STEFANO ZUFFI E DAVIDE TORTORELLA

Language: English
You probably know that the Louvre contains three works by Caravaggio: the first is the early La Buona Ventura, depicting a gypsy reading a gentleman's hand, the second is the Portrait of Alof de Wignacourt, a great master of the order of Malta accompanied by a squire, and the third one, which I'll talk about in more detail here, is the 1605 masterpiece entitled Morta della Vergine (Death of the Virgin). This was the last altarpiece that Caravaggio painted in Rome before fleeing after he killed a man in a fight.
The painter engages you in the weeping of Mary Magdalene and the apostles around Mary, lying on her deathbed - a scene of dignified poverty among modest but deeply emotional people. The desolate environment appears even more solemn and intense due to the big red curtain at the top, similar to a raised theater curtain. Dramatic tension is achieved with an extraordinary concentration of media. The figures are dramatically highlighted by the light that shapes the figures and allows the face of the Madonna and the apostles to emerge from the shadow.
You'll find it hard to believe, but this moving masterpiece was quite scandalous at the time! It was said that Mary's bruised, swollen body with bare ankles was modelled on the corpse of Lena, a prostitute who had been Caravaggio's lover and model, after she was drowned in the Tiber. Caravaggio is now considered to be the great innovator of 17th century religious painting because he introduced an everyday aspect to his most humble holy representations, yet ironically because of this, the canons of Santa Maria della Scala, the Roman church where the painting was to be displayed, scornfully refused it. The clerics did not understand the disturbing humanity in the corpse of a drowned young woman with bare, swollen legs. The picture was then bought by the Gonzaga family on the advice of Rubens, and later passed to Charles I of England, finally ending up in France.
FUN FACT: a fourth Caravaggio painting could now be added to the three in the Louvre, since the discovery of a canvas entitled Giudetta e Oloferne was discovered in the attic of a house in Tolosa in the south of France by the owners, which is most probably an authentic work by the great master. The French government has banned it from being exported, but if they want to add it to the collection in the Louvre, they'll have to come up with 100 million euros!