LOUVRE MUSEUM, Collections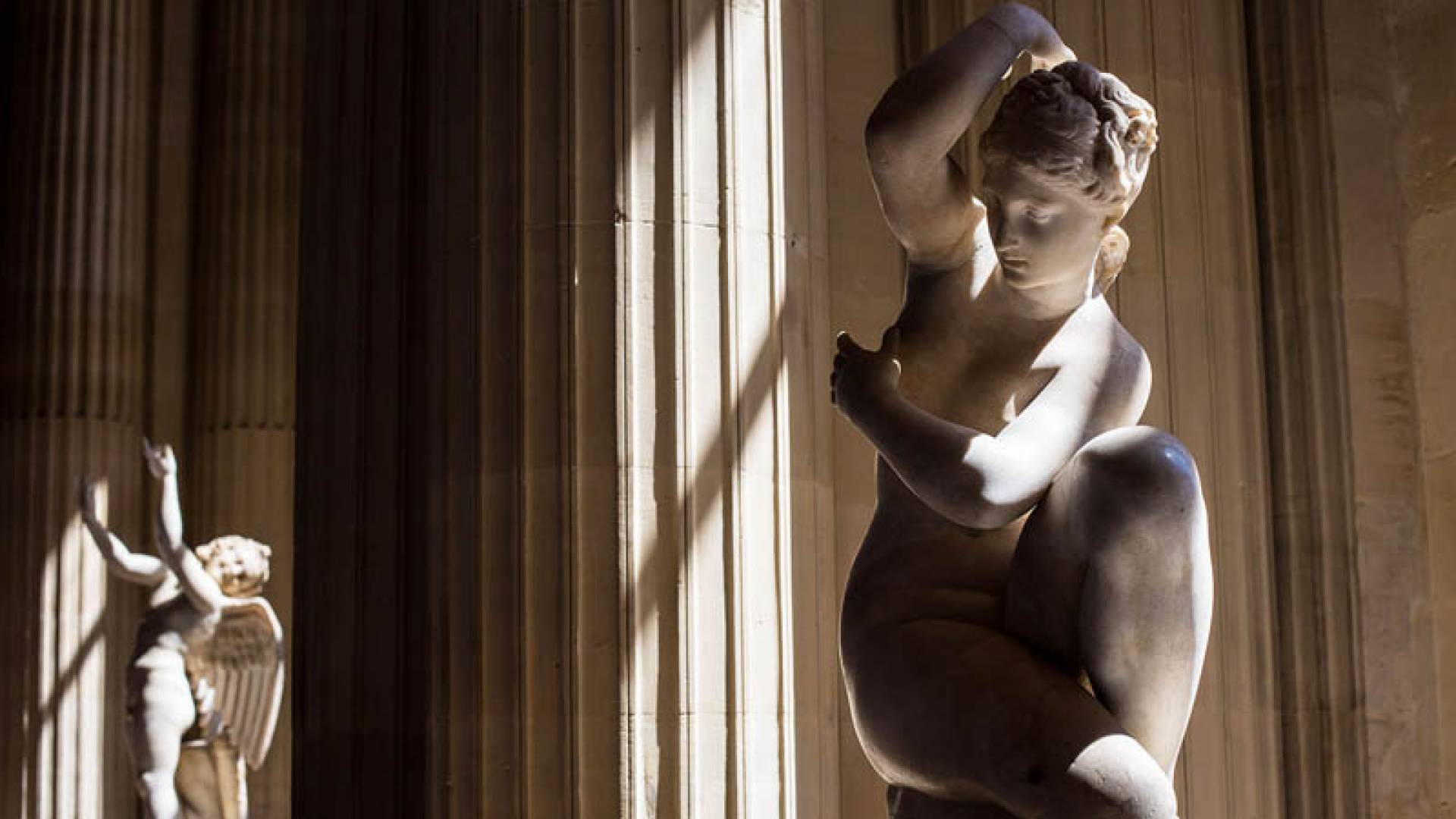 Audio File length: 3.10
Author: STEFANO ZUFFI E DAVIDE TORTORELLA

Language: English
To help you avoid losing your orientation, I'll outline how the Louvre is organized. Oriental antiquities are located at level 0 of the Richelieu and Sully wings, where you can admire many objects and finds from the early world's civilizations, ranging from Mesopotamian populations such as Sumerians, Assyrians, and Babylonians to those of the Far East and Japan.
Levels 0 and 1 of the Sully wing present over fifty thousand Egyptian items, where you can learn everything about the life and the conception of afterlife during the age of the Pharaohs. In the exquisite Greek antiquity department at levels -1, 0, and 1 of the Denon and Sully wings, you're spoiled for choice among items from pre-classic Greece up to the end of the Roman Empire.
Italic and Etruscan art are located at level 0 of the Denon wing where you can admire sculptures, vases, sarcophagi, weapons, jewelry, and furnishings, coming mainly from tombs. Roman art can be found on floors 0 and 1 of the Denon and Sully wings in chronological order from the end of the Republic to the fall of the empire.
The glory of Islamic civilization up to the 1700s is displayed on floors 2 and -1 of the Denon wing with pottery, paintings, rugs, weapons, and glass objects. Levels 1 and 2 of the same wing dive into the ocean of European painting, and are divided into five geographic areas: France, which is the most complete collection in the world with works by Poussin, Fragonard, Watteau, and the great masters of the 1800s. The North-European section is divided into production centers: Germany, the Netherlands, Flanders, and so on.
Then there is the rich collection of Italian paintings with works from the great Renaissance masters and much more. There is a compilation of masterpieces from Spain ranging from the 1400s to the 1800s, and the last part is dedicated to British and American paintings.
And don't forget the sections devoted to decorative arts, prints, and drawings, as well as African-American creations! And if you're into sculpture, go to levels -1 and 0 of the Richelieu wing to follow a chronological path from the Middle Ages to Romanticism while admiring the best masterpieces of French sculpture, while in the Denon wing you can take in the best of Europe, with a strong Spanish and Italian presence: Donatello, Michelangelo, Canova... its a good workout for your eyes, but also for your legs!
FUN FACT: overwhelmed yet? Be strong: the Louvre Museum is so big that if you spend 30 seconds in front of each of the displayed objects, it would take you almost 3 and a half months to visit the entire museum!