LOUVRE MUSEUM, David The Oath Of The Horatii Denon Wing Hall 75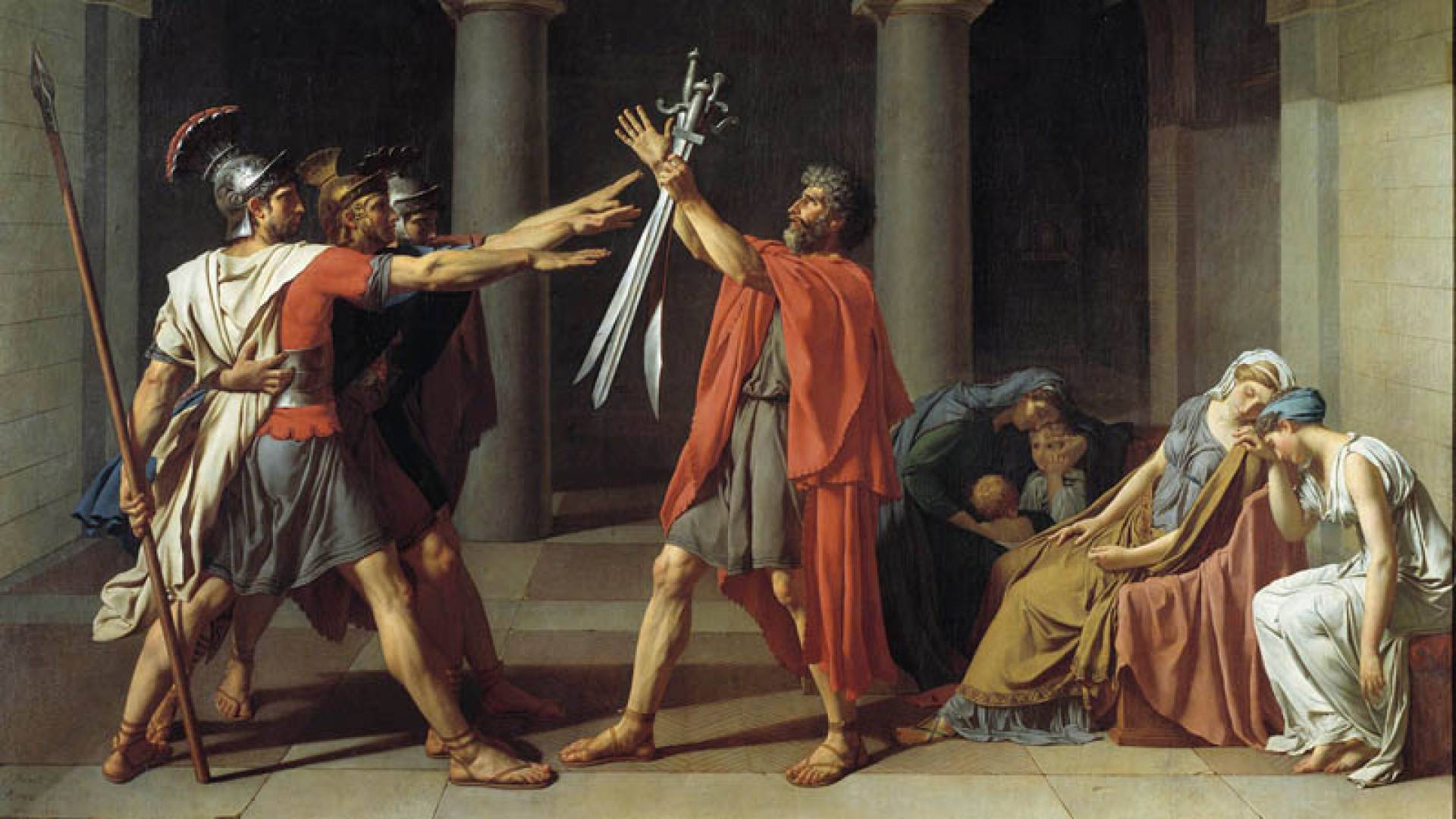 Audio File length: 2.49
Author: STEFANO ZUFFI E DAVIDE TORTORELLA

Language: English
Jacques Louis David was the dominant figure of painting in his time. Thanks to his exemplary clear style, virtually two entire generations of French painters between the 1700s and 1800s are bound to his teachings. He was born in Paris in the mid-1700s and studied for a long time in Italy, where he was greatly impressed by Raphael's works and the testimonies of Greek and Latin culture. These experiences then pushed him to adhere to the aesthetic and stylistic ideals of Neoclassicism, of which he will become one of the undisputed masters.
The work Oath of the Horatii that you are now admiring was his first masterpiece, which he had painted at the age of 36 during his second stay in Rome. The painting had been commissioned by King Louis XVI and was exposed with great success at the "Salon", the famous exposition of academic artists that was held in the Louvre, and has remained here ever since.
In this canvas that would become a long-standing model for historical painting, David presents a famous episode of Roman history, a duel to the last blood between three brothers on one side and three brothers on the other, but does so in a way that arouses modern feelings such as concord and political passion. Note also the different attitudes of the warrior-men and bride-women. At the center of the scene you see the father of the Horatii raising his three sons' swords with a solemn and energetic gesture; his partially opened mouth helps you understand that he has just asked his children to pronounce the famous oath "Or Rome or death" before the fight against the Curiatii that will decide the outcome of the war between Rome and Alba Longa.
The three Horatii stand at the left of the picture, aligned, with their legs stretched and their right arms tense, indicating their firm determination and common will. On the right side you can note a completely different atmosphere: here the mother of the Horatii covers the two younger children with her veil, while her daughter Camilla, arms thrown down, rests her head on that of her sister-in-law Sabina, who is the wife of the oldest Horatii brother.
FUN FACT: the curious thing about this painting is that it was commissioned to David by King Louis XVI, but then became a symbol of the French Revolution! The artist certainly wasn't a firm believer in his political choices: he also drew a famous sketch of Marie Antoniette as she was being carried on the cart that led her to the guillotine.