MADELEINE, Church Exterior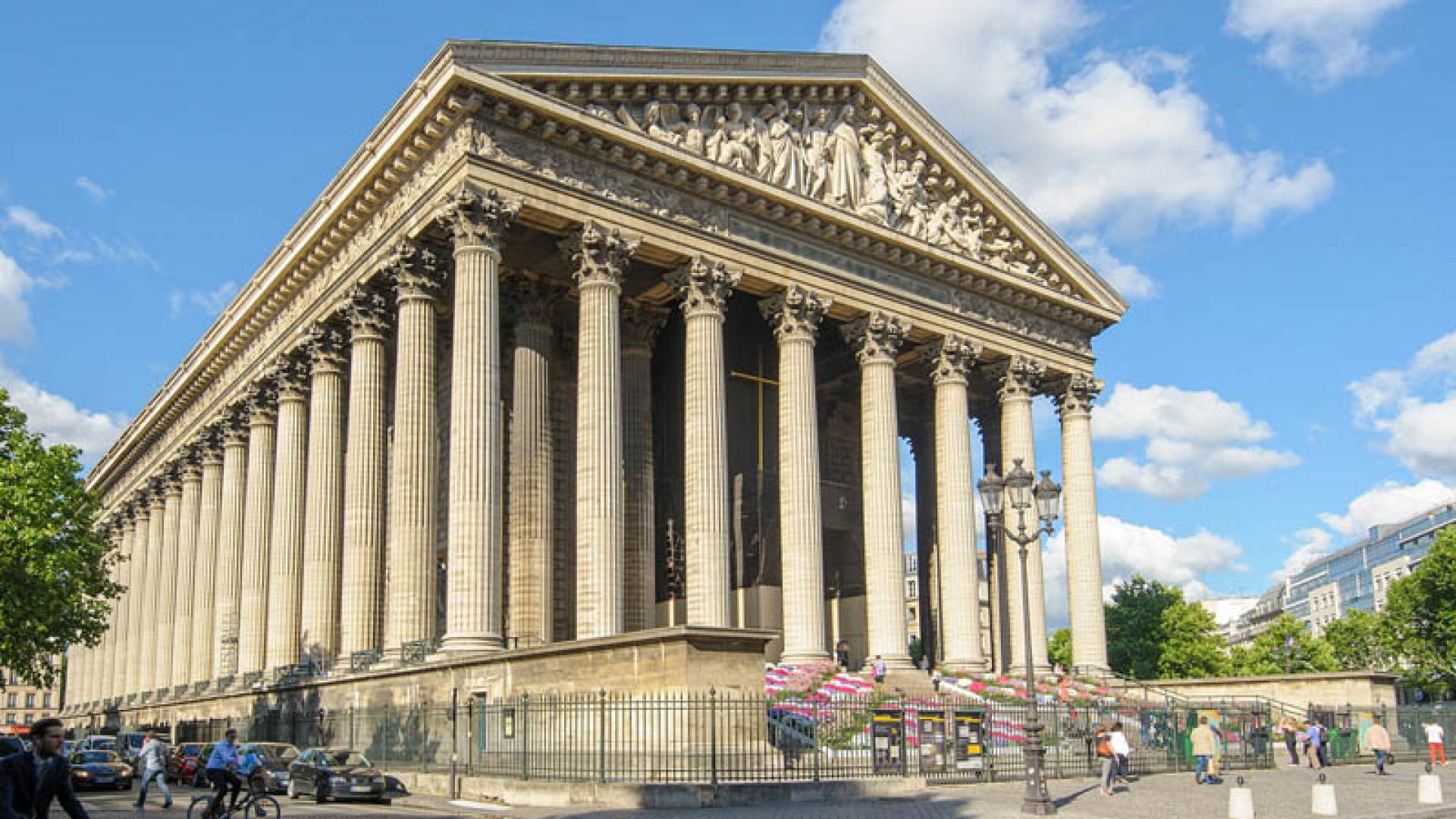 Audio File length: 2.40
Author: STEFANO ZUFFI E DAVIDE TORTORELLA

Language: English
As you walk along the staircase leading to the entrance of Madeleine Church overlooking the square, let me tell you about its exciting history.
According to the original project dating back to the mid-1700s, Madeleine should have been a rectangular parish church in a late-Baroque style with a large dome. However, when the original architect died one of his students turned his idea upside down and proposed a completely new model. During the Revolution, however, and afterwards during the Consolation period, the works were suspended for a significant amount of time, and the building's final purpose was uncertain: they did not know whether to turn it into the home of the stock exchange or the national library. Finally in 1806 Napoleon decided that it would become a secular temple dedicated to the Glory of the Great Army.
Once the architect Vignon's design was approved, everything that had been built up to then was demolished, and construction of the new building began, which was clearly inspired by the classic model of Greek and Roman temples. But then after the disastrous campaign in Russia just a few years later, the emperor changed his mind and decided that the building should be a church, more precisely one dedicated to Mary Magdalene.
Was that the final decision? No: even after the Restoration and until Louis Philippe came to power, work on the building stopped several times and Madeleine was on the verge of becoming a railway station or even the seat of Parliament! It was only in 1845 that the works were finally completed, and Madeleine was consecrated by the bishop of Paris.
By now you'll have reached the peristyle, which is the colonnade surrounding the church, where you can admire thirty-two statues of saints in thirty-two niches carved into the outer walls. Before you enter, look at the view that lies behind you in the direction of Place de la Concorde: Luxor's obelisk stands in all its splendor, and beyond the Seine the panorama ends with the façade of Palais Bourbon.
FUN FACT: look closely at the relief on the pediment of Madeleine's façade, which depicts the Last Judgment. You won't believe it, but this work was a huge scandal! In fact, of the various sculptures near the central figure of Christ, you can see a kneeling Mary Magdalene who at the time was even considered "indecent" because of her fiery expression and overly revealing clothing!