ARCHBASILICA OF ST. JOHN LATERAN, Basilica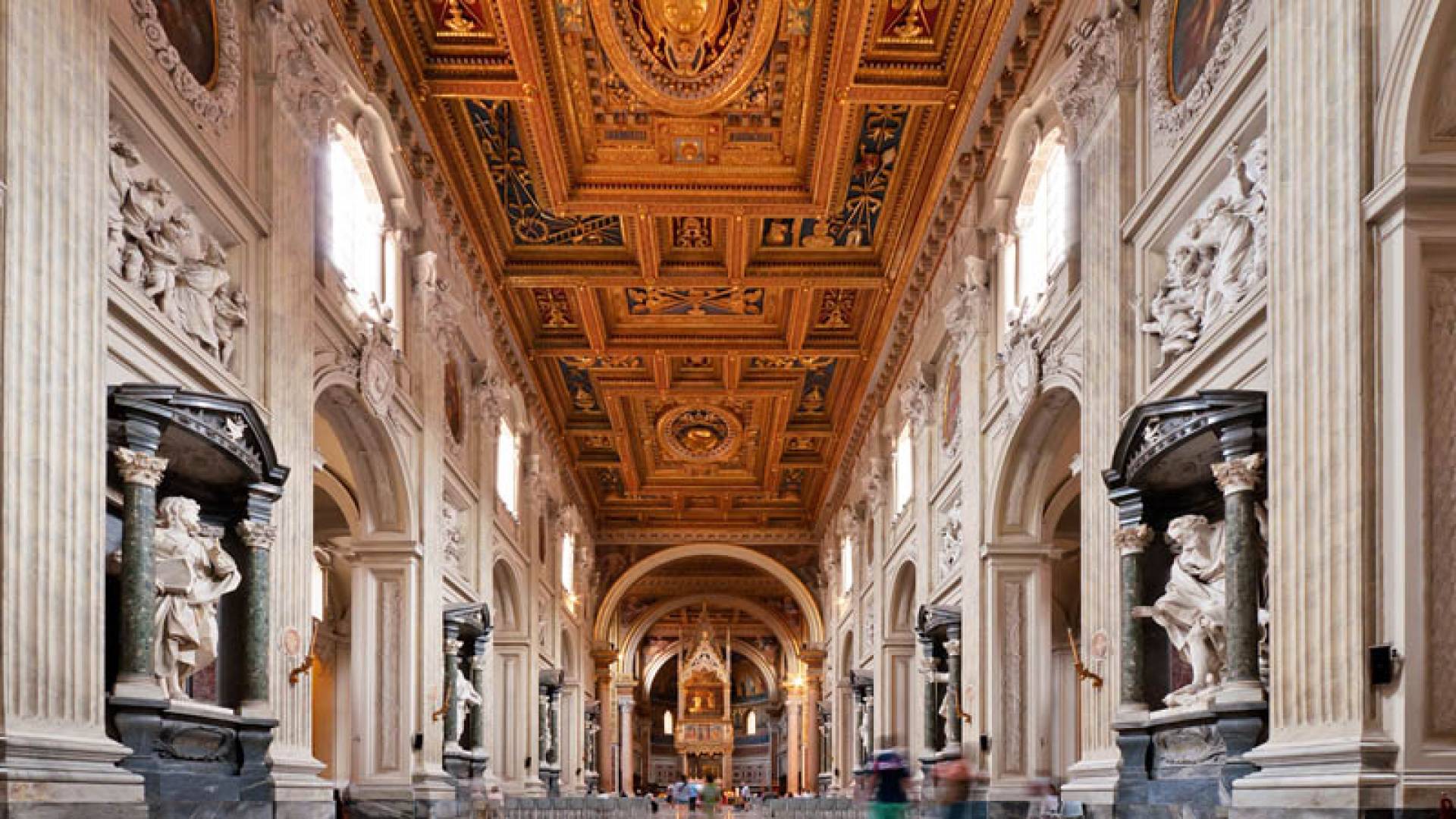 Audio File length: 2.38
Author: STEFANO ZUFFI E DAVIDE TORTORELLA

Language: English
You've finally reached the clearing that opens up in front of the façade of the Archbasilica of St. John Lateran. Thanks to its large size it's often used for popular events, including the famous "concertone", which is a very large concert held on May 1st, Labor Day in Europe. The porticoed façade crowned by fifteen large statues of saints is one of the oldest parts of the basilica and dates back to the first half of the 18th century.
The interior is rendered majestic by the diffused light, wooden ceiling, and grandiose Baroque statues of the apostles; it has lost all of its early Christian appearance and almost all of its medieval and fifteenth-century decorations. In fact, the building was completely renewed at the behest of Pope Innocent X for the Jubilee of 1650. The renovations were seen to by the ingenious architect Francesco Borromini, Bernini's historic rival, who maintained its original division with five naves.
I'd like to point out a fragment of a fresco attributed to Giotto on the third pillar of the right nave: it shows Pope Boniface VIII blessing the faithful while accompanied by two prelates. According to some scholars, it could depict the launch of the Jubilee in the year 1300. In fact, Boniface VIII proclaimed the first Holy Year in history, which brought an impressive crowd of pilgrims to Rome, as Dante also recalls in the Divine Comedy.
Do you see the high tabernacle on the high altar? It keeps the relics of the heads of Saints Peter and Paul! ...And in the back of the church, don't miss the beautiful mosaic from the late 1200s.
Before leaving the church, however, you absolutely have to see the amazing 13th-century cloister. It is the largest medieval cloister in Rome (its sides measure 36 meters), and is a masterpiece of delicately carved marble adorned with mosaic motifs. The small columns between the arches are coupled, but are almost never "twins", as they all have a different shape and decoration.
FUN FACT: on the night of the feast of St. John, the Romans gathered in St. John's Square to eat snails, in line with the saying "lots of snails, lots of horns for witches". And also against the witches, before leaving the house they would overturn rock salt in their doorways near a broom of sage.