ARCHBASILICA OF ST. JOHN LATERAN, Holy Stairs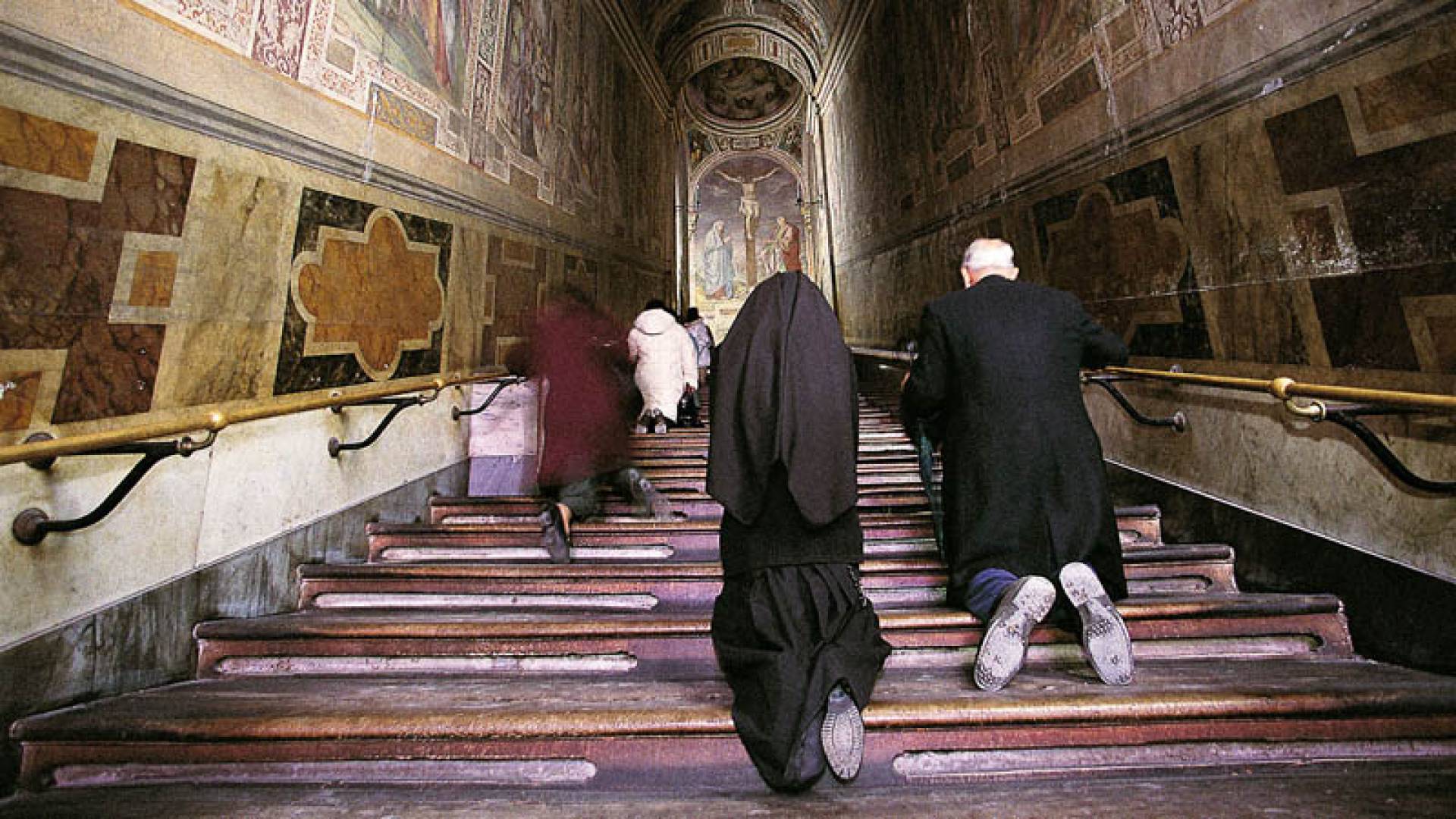 Audio File length: 3.04
Author: STEFANO ZUFFI E DAVIDE TORTORELLA

Language: English
Many visitors enter the basilica from the back, passing under the loggia where the popes gave their blessings; instead, I suggest touring the square first, and then leaving it to enter from the main façade. So for the moment ignore the stern façade of the Lateran Palace which incorporates the basilica's cloister, and go to the building next to it that contains the Scala Santa, or Holy Stairs which were also built at the end of the 16th century when Pope Sixtus V had the entire architectural complex restored.
Inside you'll see several flights of stairs: the central one with steps covered with protective wood comes from as far away as Jerusalem. According to tradition, these steps belonged to the Praetorium, and Jesus had walked up them on his way to being judged by Pontius Pilate.
At the entrance of the precious chapel called Sancta Sanctorum you can see a Latin inscription which says, "There is no more sacred place throughout Rome". And in fact this chapel, founded 1500 years ago and reconstructed in the second half of the 13th century when the church was still the seat of the popes, can be considered no less than the model for the Sistine Chapel in the Vatican. The most solemn ceremonies of the pontiffs took place here, and it preserved the church's most revered relics.
Even though it has been restored recently, it still maintains its marvelous 13th-century decoration and square architectural layout, which is very simple but already tied to the then-new Gothic art, as you can see in the presence of the vault with acute arches.
From the main hall you walk into a smaller room, where you might get supernatural chills from the painting entitled Christ the Savior which, according to legend, was not "painted by a human hand". Admire the precious gold-background mosaic on the altar as well, but even more importantly, take in the very important cycle of frescoes that cover the top part of the walls, which are the best-preserved example of 13th-century painting in Rome. The frescoes depict episodes of the Saints Peter and Paul's lives, the patron saints of the city: in one scene you can see them with Pope Nicholas III, who's holding the model of the chapel devoted to them.
You should also note the marble floor and large porphyry disks in the center, while the rectangular stripes on the sides perhaps indicate the paths processions were supposed to follow.
FUN FACT: the steps of the Holy Stairs cannot be touched by human feet. The faithful can only go up them on their knees, in a sign of a penance that's especially carried out on Holy Friday, as you might also remember from a famous scene of the movie La Grande Bellezza by Paolo Sorrentino.