PIAZZA VENEZIA, Palazzo Venezia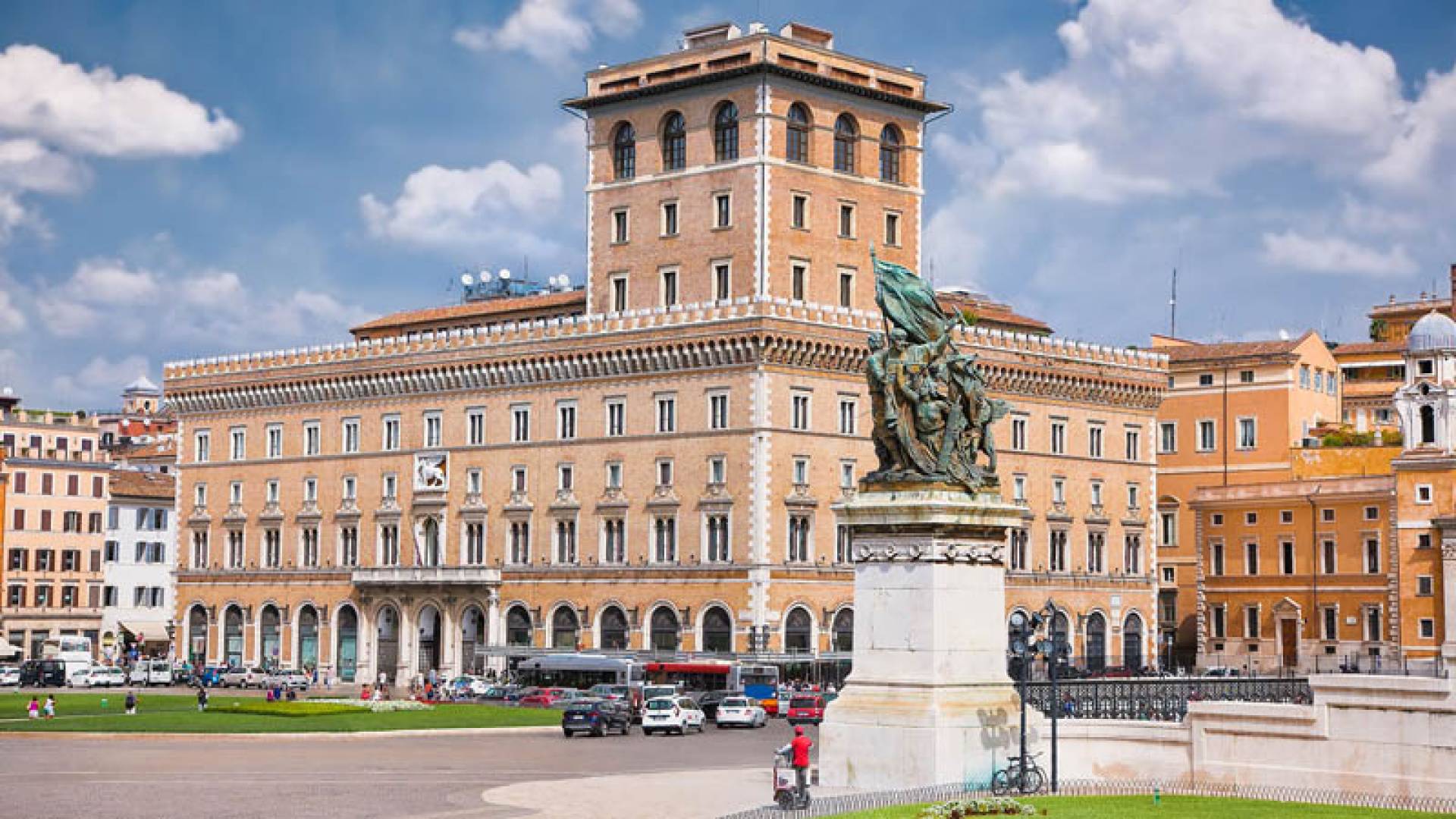 Audio File length: 2.35
Author: STEFANO ZUFFI E DAVIDE TORTORELLA

Language: English
Have you ever wondered where the real "center" of Rome is? If ever a place can aspire to this definition, it is Piazza Venezia. Always full of traffic, home to the "oceanic" muster of the fascist era, the majestic background of the Via dei Fori Imperiali, and famous thanks to hundreds of films, you stand at the meeting point of five of the most important streets in Rome, starting with the "corso": the long straight road that ends in Piazza del Popolo and is the fundamental axis of the historic center.
This square dominated by the white mass of the Vittoriano gets its name from the important Palazzo Venezia, which for centuries was the residence of the Embassy of the Republic of Venice at the Holy See. It was built in the mid-1400s by Pope Paul II, a Venetian native, and was designed by Leon Battista Alberti. As you can see, one side of the palace is dominated by a mighty tower crowned by battlements, as if it were a fortress, while its portal and windows are among the first examples of Renaissance architecture in Rome. As you may know, this palace was the headquarters of the government and the personal office of Mussolini during Italy's two decades of fascism: crowds would gather in the square between the balcony window and the center of the façade, and it was here that Mussolini announced Italy's entry into World War II.
Today in Palazzo Venezia you can visit important art exhibitions and a permanent collection of paintings, sculptures, and applied arts from the Middle Ages and the Renaissance.
If you walk along the left side of the palace facing a garden and the staircase of Aracoeli, you'll reach the beautiful church of Saint Mark, whose façade with a portico and loggia dates back to the mid-1400s and will probably remind you of the Colosseum's arches. The furnishings inside are Baroque, but pay close attention to the fifteenth-century carved ceiling and the beautiful mosaic behind the altar from the ninth century AD.
FUN FACT: on the Assicurazioni Generali side of the palace, opposite the Vittoriano, you can see a plaque on the wall. It marks the point where a house once stood which was the home of the great Michelangelo Buonarroti, in a square called "Macel de' Corvi ".