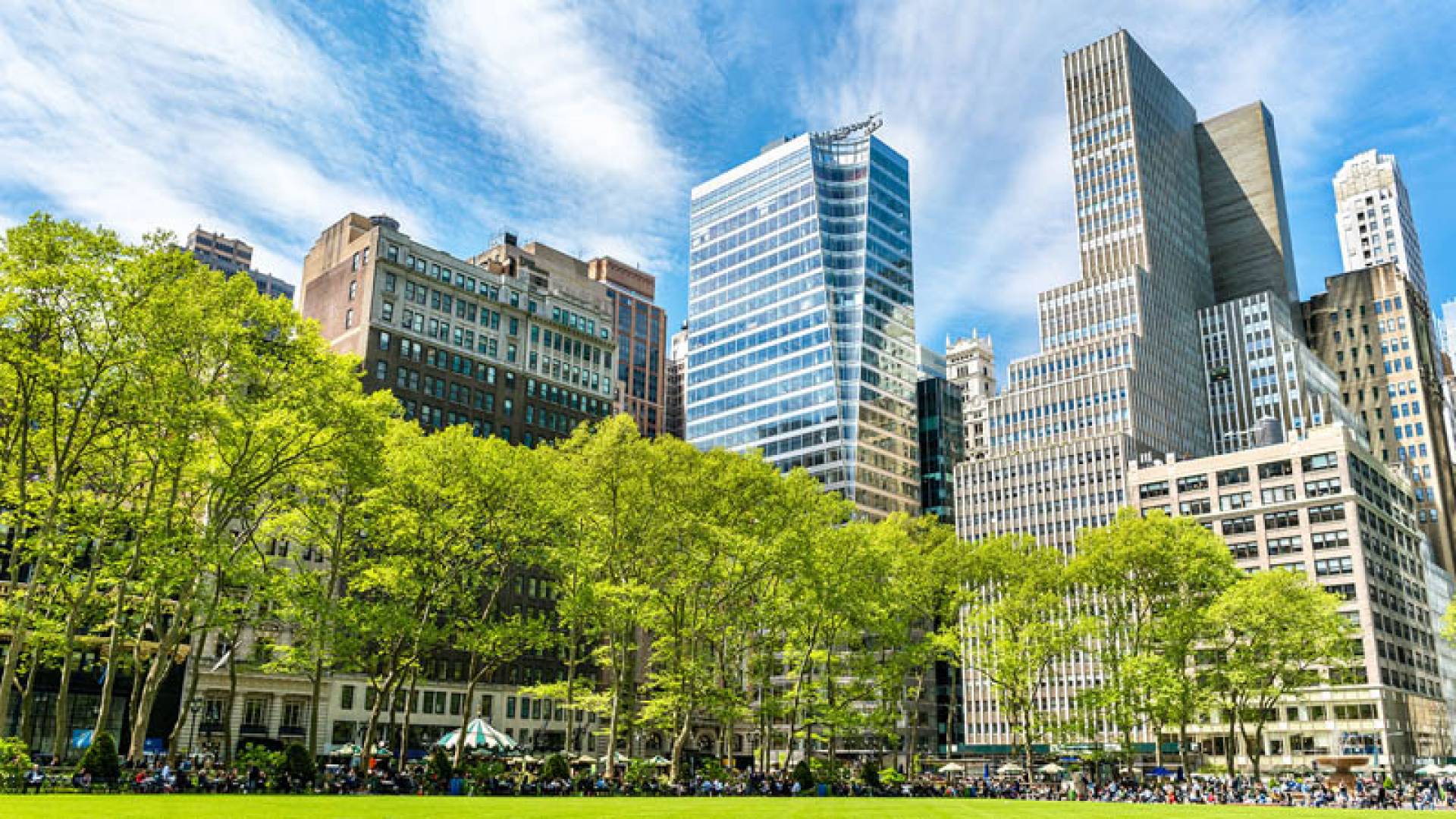 Audio File length: 2.20

Language: English
Bryant Park is the most European of New York's parks, with a particularly French-like style, featuring kiosks, cafés, outside tables and the characteristic green chairs, dotted virtually all over the park.
If it weren't for the commanding skyscrapers surrounding Bryant Park, you might well think you were in Paris, in a sort of "Petit Luxembourg": and indeed, this is the very nickname by which this delightful green area is now known among New Yorkers, following the 1990s restyling. In the Eighties, it was notoriously known as "Needle Park".
Head towards the center of the park, leaving behind the gushing Josephine Shaw Lowell Memorial Fountain. Built at the beginning of the 20th century, this fountain was the first public memorial in the city to honor a woman, the "grand dame of social reformers".
On your right, in the shadow of the emblematic American Radiator Building, with its black bricks and gilded Gothic details, you can see Le Carrousel, a legendary merry-go-round which, despite the style, was entirely built in Brooklyn.
Opposite you, blending seamlessly into the natural surroundings thanks to the ivy that covers almost the whole structure, you can spot the romantic Bryant Park Grill, with its idyllic terrace, dominated by the imposing New York Public Library, which I'll be telling you about shortly.
And if you'd like to take a rest with a good book, head towards the "reading room", on your left. This area, originally created during the Great Depression to offer a free place to read for all those who had lost their jobs, was recently reopened after almost half a century, and every day, in this original setting with newspapers, magazines and books available to all, interesting cultural events are organized for young and old, such as literary events, poetry readings or workshops.
AN INTERESTING FACT: in winter, this picturesque park acquires extra charm, thanks to an appealing Christmas market and a popular ice-skating rink, whose cheaper prices make it a competitor for the one at the Rockefeller Center.