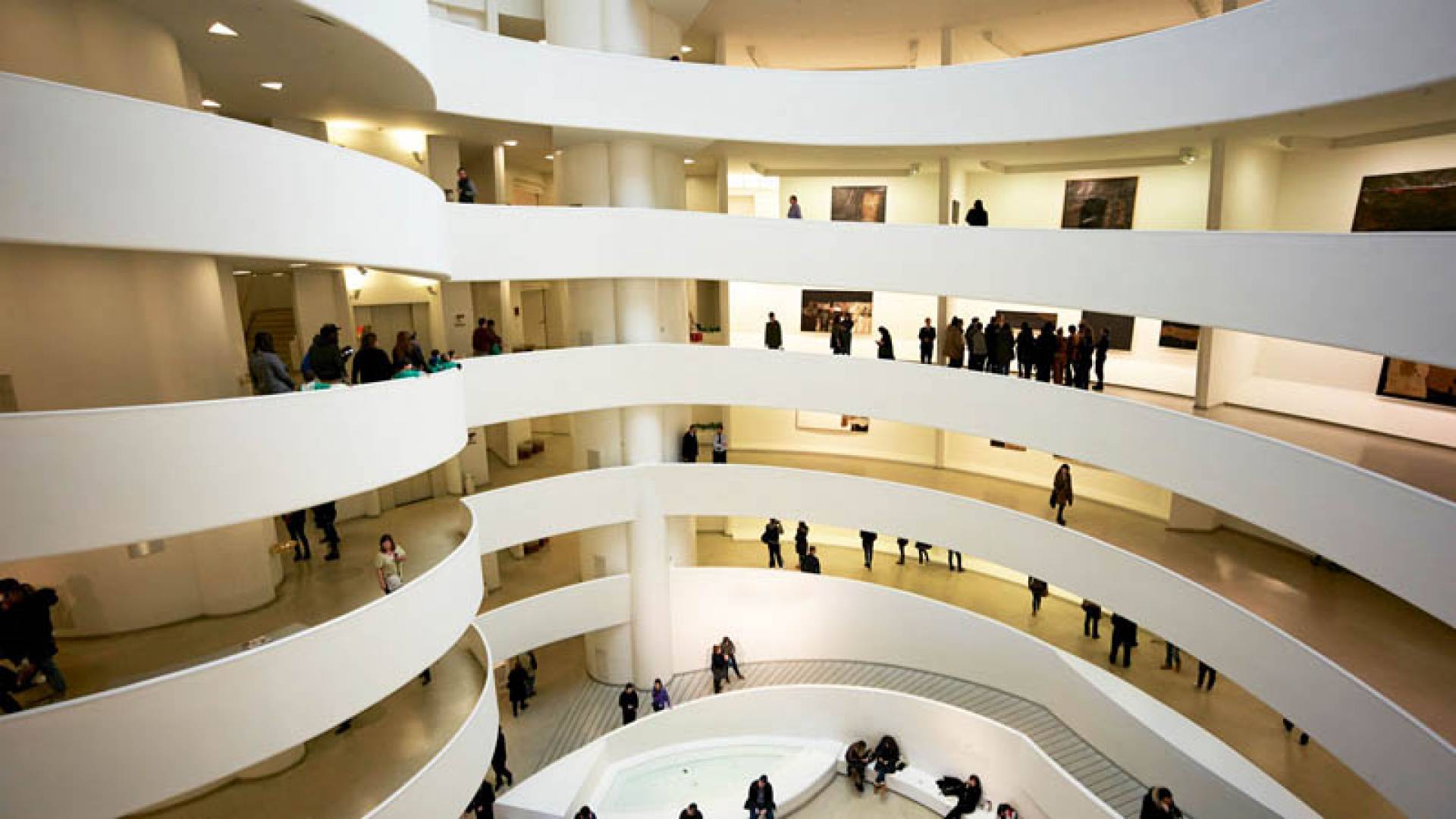 Audio File length: 2.08

Language: English
The Guggenheim, today an architectural icon of the city, did not always enjoy such a positive reputation, and was harshly criticized before, during and after its construction.
This "temple of the spirit", which was to allow visitors a different way to admire the art works gathered here, came under a constant barrage of criticism both from the neighboring residents on the Upper East Side, intimidated by this odd cylindrical building rising upwards and outwards before their eyes, as well as from the prestigious artists whose works were to be displayed inside.
Despite the controversy, this original circular structure, which contrasts with the vertical, rectangular architecture of the buildings around it, has earned its place in the cityscape, and New Yorkers have become accustomed to its bright white presence, as well as to the thousands of tourists and art aficionados queueing up at the entrance, as also happens every day in the other Guggenheim museums in Venice and Bilbao, soon to be joined by the new one in Abu Dhabi.
As you take in this architectural masterpiece, along with those contained within its curved walls, you'll be surprised to know that it was precisely the walls that sparked the most controversy. Their rounded shape, together with the inclination of the outer walls, hampered not only the exhibition of the paintings, which were difficult to hang, but also posed problems for the proper lighting of the works. In the 1990s, attempts were made to solve the problem with the first restyling which, after almost sixty years "in the dark", resulted in reopening the upper skylight and raising the rear tower hosting the permanent collection.
AN INTERESTING FACT: Wright had conceived the visit to the Guggenheim in a way that was the complete opposite of what is usually the case, i.e. taking an elevator to begin the visit from the top floor down to the ground floor. He had failed to reckon with the huge flow of visitors who made this downward route impractical from the very first day.