METROPOLITAN MUSEUM OF ART, Tour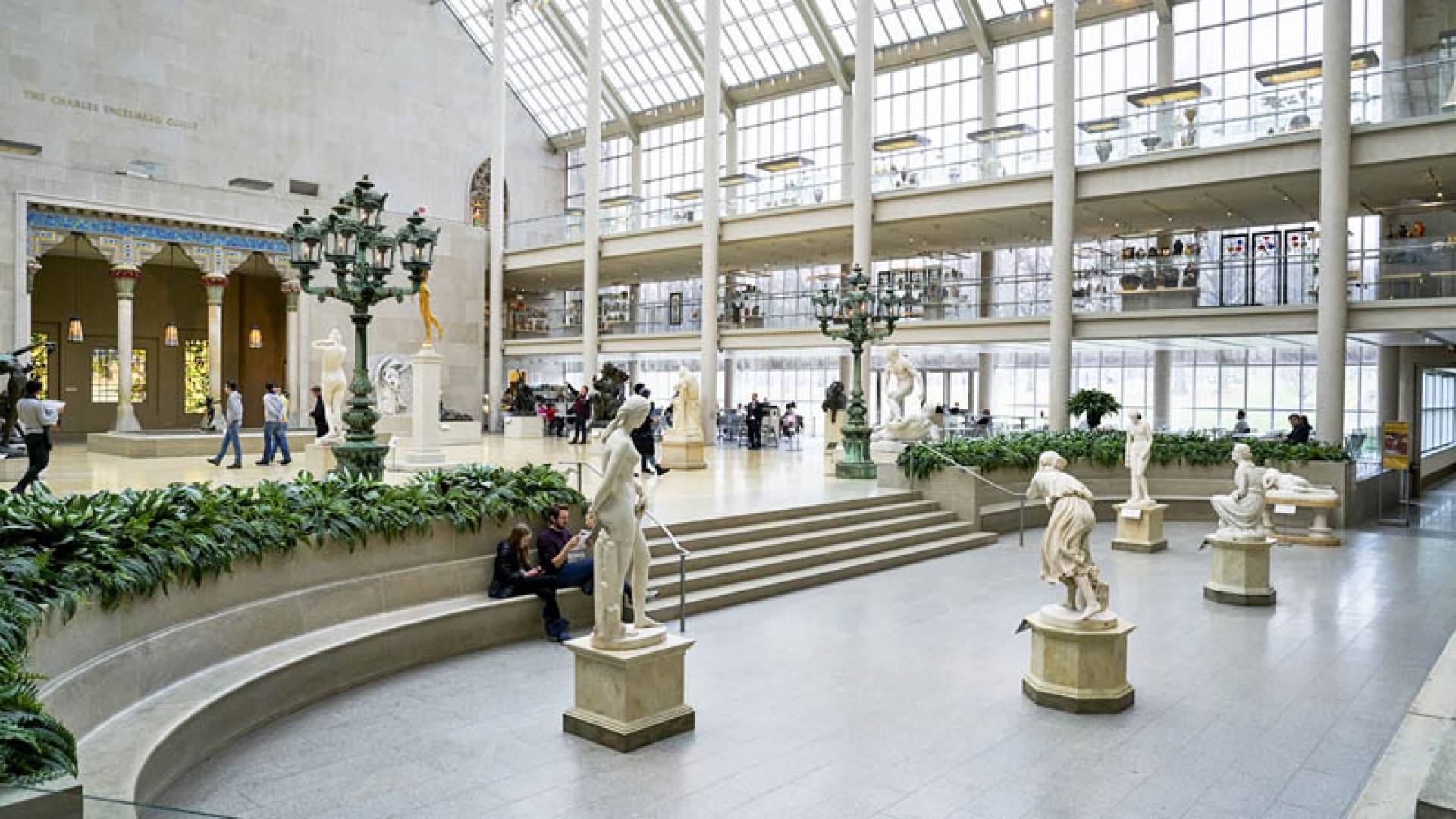 Audio File length: 2.36

Language: English
The magnificent Great Hall was inaugurated at the beginning of the 20th century.
This monumental space, which took thirty long years to complete – the architect did not live to see it finished – is the museum's splendid feather in its cap. The upward-stretching arches, the rounded vaults, the striking columns and the elegant gallery all give the sensation of entering a magnificent Neo-Classical temple where you can admire, in awe, over two million works of art.
Such an abundance of masterpieces is enough to make your head spin… but don't despair: all you'll need is a map and a little patience to find your way around the almost 200,000 square meters of exhibition space!
The collection is divided into 19 sections ranging from painting to sculpture, as well as photography, costumes, weapons and musical instruments. The most popular are those dedicated to Egyptian, Greek and Roman art, together with European painting and the famous America Wing.
Focusing your attention on these sections, to the right of the Great Hall you'll find the galleries of Ancient Egypt, where, at the back, in a room partially surrounded by a pool of water and lit by large windows looking onto Central Park, you can admire the fabulous Temple of Dendur.
The recently expanded collection of Greek and Roman art is housed on the opposite side, and features sculptures, bas-reliefs and frescoes. Here too, the most striking works are located at the back, where, in a delightful hall, you'll find yourself surrounded by marble gods and Roman figures.
The American Wing extends over four floors, and includes decorative arts, with the rooms recreating period settings, as well as a collection of fabulous Tiffany stain-glass windows. You'll also find painting and sculptural works, with masterpieces by American artists.
The real jewel in the Met's crown, however, is the impressive European painting section on the second floor. Covering a period of almost six hundred years, it includes, above all, paintings from the French, Italian and Dutch schools.
And get ready for the museum's very best: magnificent works by Caravaggio, Cezanne and Van Gogh await you!
AN INTERESTING FACT: not to be outdone by its Parisian counterpart, the Met has its own "Mona Lisa", painted not by Da Vinci, but by Duccio di Buoninsegna's whose "Madonna and Child" has been given this nickname: it is a painting smaller than an A4 sheet of paper that cost more than 30 million euros!