ROCKEFELLER CENTER, Introduction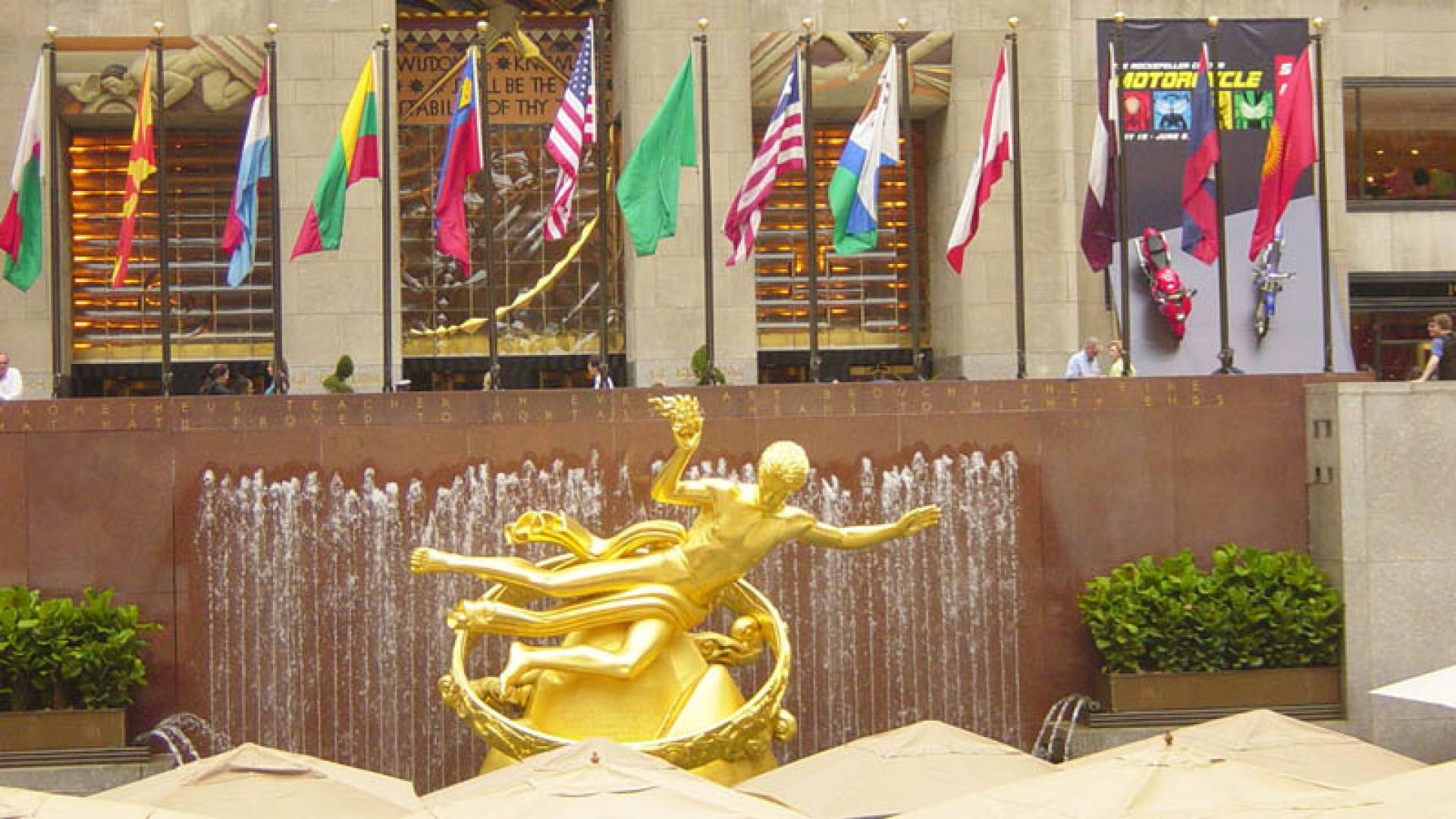 Audio File length: 2.40

Language: English
Today I'll be accompanying you on your visit to the Rockefeller Center and its surroundings.
The Rockefeller Center is one of the most renowned financial and business complexes in the world, a bricks-and-mortar example of the realization of the great American dream.
The Center is named after a famous family of US industrialists, headed by John Davison Rockefeller, an oil tycoon and generous philanthropist. Towards the end of the 1920s, Rockefeller decided to invest part of his huge fortune in real estate projects, and among the various areas available in the city, he chose a piece of land belonging to Columbia University, in Midtown. His idea was to create an actual "city within the city" that would be able to compete, in terms of volume of business, with Wall Street. Unfortunately, the multi-millionaire's untimely death prevented him from seeing his glittering dream come true, and his son remained the sole financial backer of the project: in spite of the galloping advance of the Great Depression, he continued with the building work, which lasted ten years until its completion in 1939.
The result is now before your eyes, and it certainly cannot be said that the tycoon's intuition was wrong!
Perhaps the best way to visit the Rockefeller Center is to wander through the enormous complex without a precise destination, strolling around the gardens, buildings and stores: however, make sure you don't miss the Art Deco details you'll find everywhere, inspired by science, industry and the arts. This place is not just a mecca for shopaholics; it's an authentic open-air art gallery, where – without spending a cent – you can admire delightful bas-reliefs, mosaics, wall paintings and sculptures such as the unmissable Atlas the Titan, supporting the celestial vault on his shoulders for eternity and almost bowing down before Saint Patrick's Cathedral opposite.
AN INTERESTING FACT: the Rockefeller complex, comprising 14 buildings and 4 towers, has had numerous owners over the years. I'll just mention a few:
In 1989, the whole complex was purchased by Mitsubishi Estate, the real estate company of Mitsubishi Group. In 1996, it was bought by a group comprising Goldman Sachs Group, Gianni Agnelli, Stavros Niarchos and David Rockefeller. It last changed hands in 2000, when Tishman Speyer Properties purchased the 14 original buildings for 1.85 billion dollars.