ROCKEFELLER CENTER, Rockefeller Center Plaza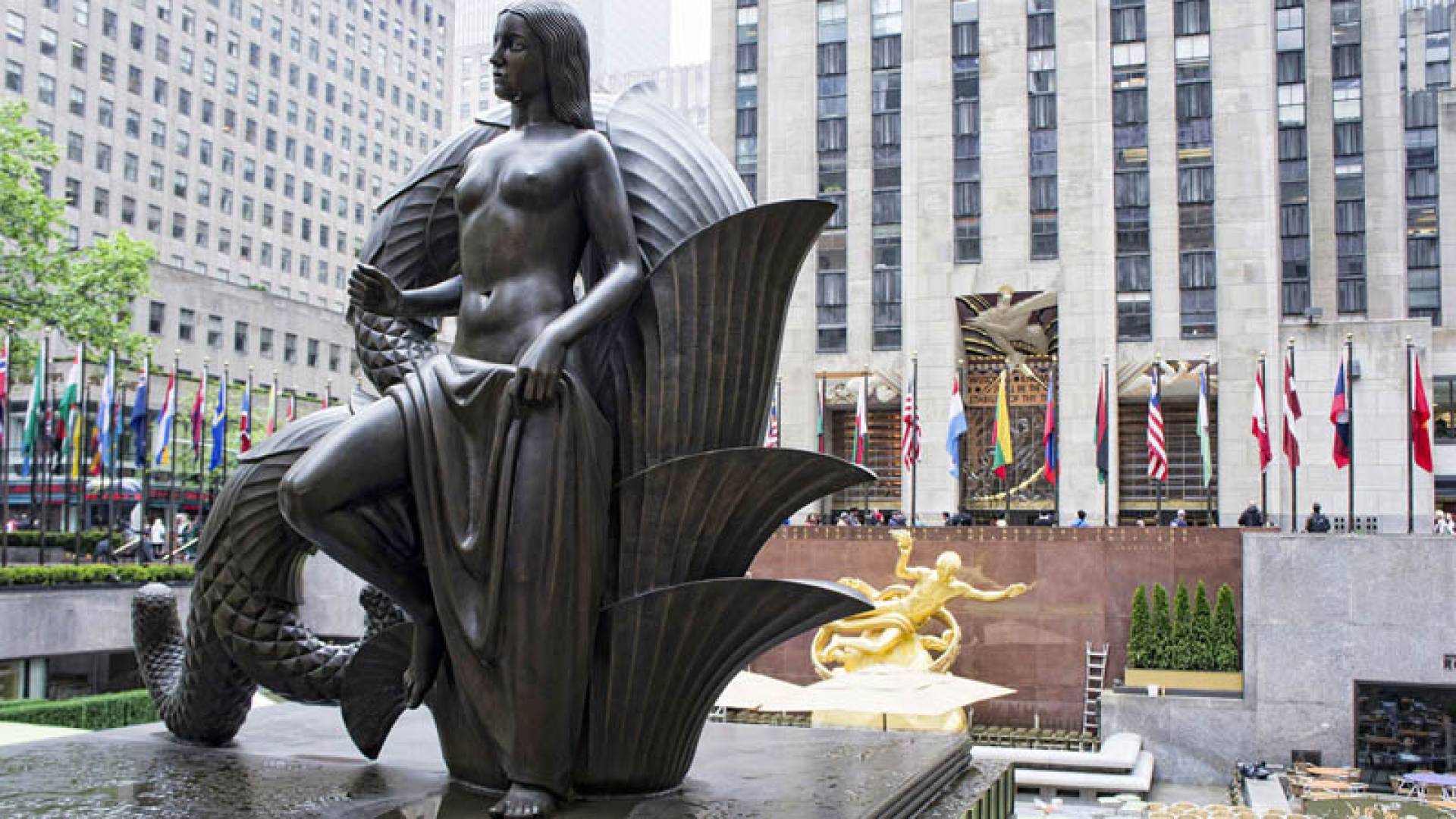 Audio File length: 2.21

Language: English
The Rockefeller Center Plaza is dominated by the striking Art Deco figure of the Comcast Building, the tallest skyscraper in the complex, at a height of 259 meters. Until 2015, it was called GE Building, in honor of its previous owner, General Electric, and it is still popularly known by this name. On the façade, you can admire the monumental frieze entitled "Wisdom" on which, between the compass needles held by a bearded god, a pearl of wisdom can be read. The skyscraper is, however, best known for its delightful panoramic terrace on the 70th floor: the Top of the Rock.
If you decide to take one of the elevators with a transparent roof, the experience on the way up will leave you in awe: the views are truly striking, especially the view over Central Park and the Empire State Building.
When you come back down to earth, or actually one level below the Plaza, you can admire the gilded statue of Prometheus, in possession of the fire stolen from Zeus, depicted against the backdrop of a waterfall within a ring featuring the signs of the zodiac. On the opposite side, at street level, you can also see the first two humans he created, "Youth" and "Maiden": the two statues, with their solid presence, almost appear to be his bodyguards!
If you're visiting New York in the depths of winter, instead of the outdoor tables on the lower part of the Plaza, you'll find a very busy ice-skating rink, set up every year in the shadow of the imposing Christmas tree, the tallest in New York, which you're bound to recognize from one of the many famous movies it appears in.
AN INTERESTING FACT: in May 2017, the splendid figure of Prometheus was for a time overshadowed by the figure of a woman, the "Seated Ballerina": a gigantic, 14-meter-high inflatable dancer depicted fixing her ballet shoes, symbolizing passion and dedication, and at the same time, in keeping with the intentions of the figure's noble sponsors, focusing attention on the controversial issue of children who have disappeared or been ill-treated.