ROCKEFELLER CENTER, Saint Patrick's Cathedral Interior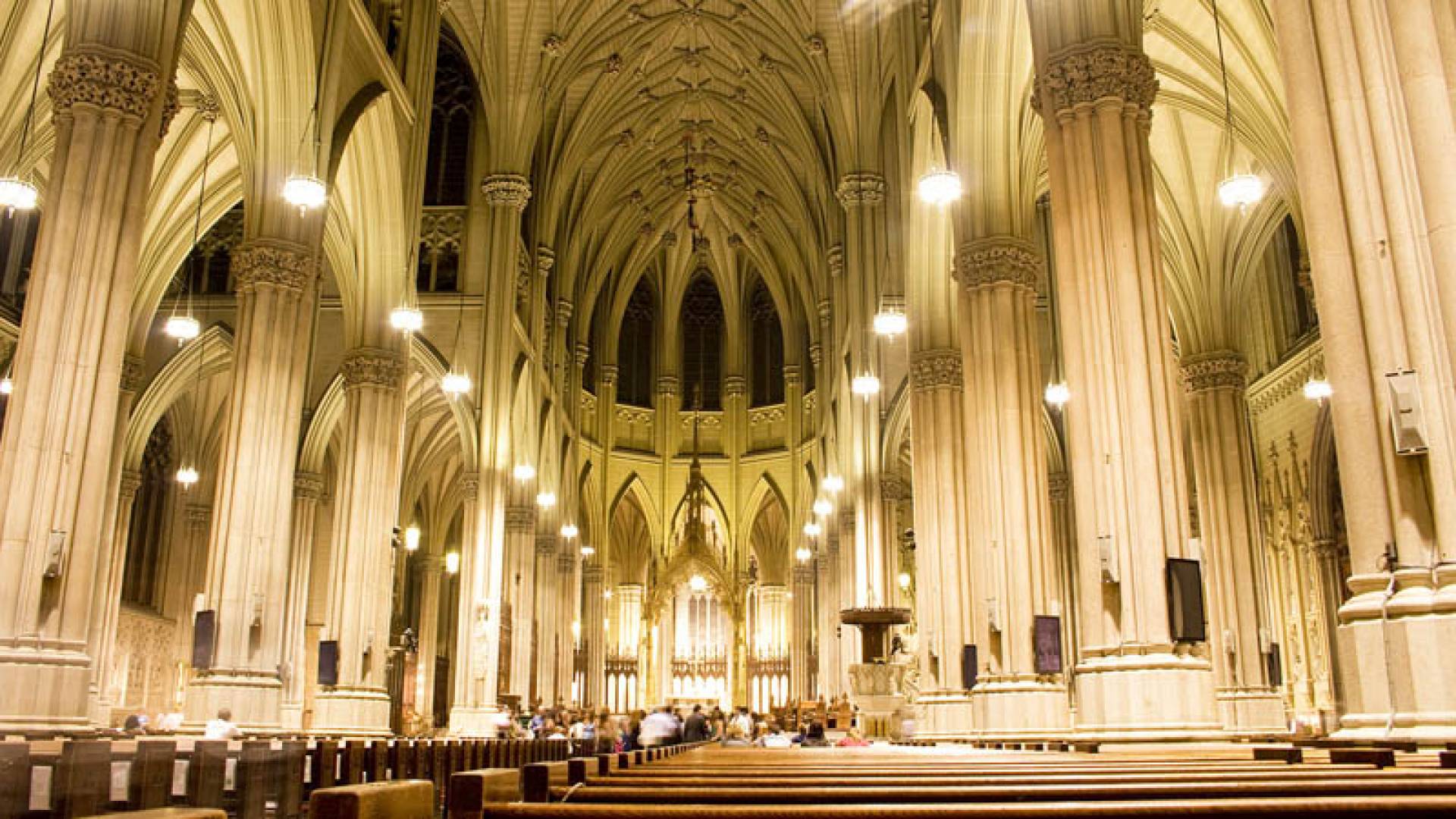 Audio File length: 2.14

Language: English
The moment you step into the Cathedral, you'll be struck by the verticality typical of Neo-Gothic style, and by the predominantly blue shades of the polychrome windows that discreetly seek to illuminate the huge interior, topped with a magnificent cross vault.
The church, as you can see, has a Latin cross ground plan, with three naves.
Start by exploring the central nave, walking among the slender "pillars of the earth", and when you're about to reach the high altar, with the numerous chapels looking onto the aisles at both sides of you, take a seat on one of the many pews. Focus on this central element, created completely in white marble, and preceded, in the corresponding niches, by the statues of four angels, and observe the bronze baldachin. Before you get up to take a closer look, take a look behind you for a moment…spectacular, isn't it?
I don't just mean the huge rose window, but also the striking main organ above the central portal, with five keyboards and almost six thousand pipes!
This is not the only organ in the Cathedral, however. If you walk up to the choir, on the left, you'll see the smaller one, with "just" three keyboards, while if you continue along this rear part of the altar, walking through the ambulatory, past the Saint Michael and Saint Louis altars, the Lady Chapel and the Saint Elizabeth altar, you'll find a monumental Pietà, three times bigger than the one sculpted by Michelangelo found in Saint Peter's Basilica in the Vatican.
Near here, behind the high altar, you'll also find the entrance to the crypt, the resting place of all the archbishops of the archdiocese of New York, as well as of another five emblematic figures renowned for their fervent, intense efforts in favor of this Catholic church and its community of worshippers.
AN INTERESTING FACT: as you make your way towards the exit, try to find the perfect shot of Atlas, framed by the central portal: it's one of the most popular and appealing photos you can take in the Cathedral!