SAINT JOHN THE DIVINE, Tour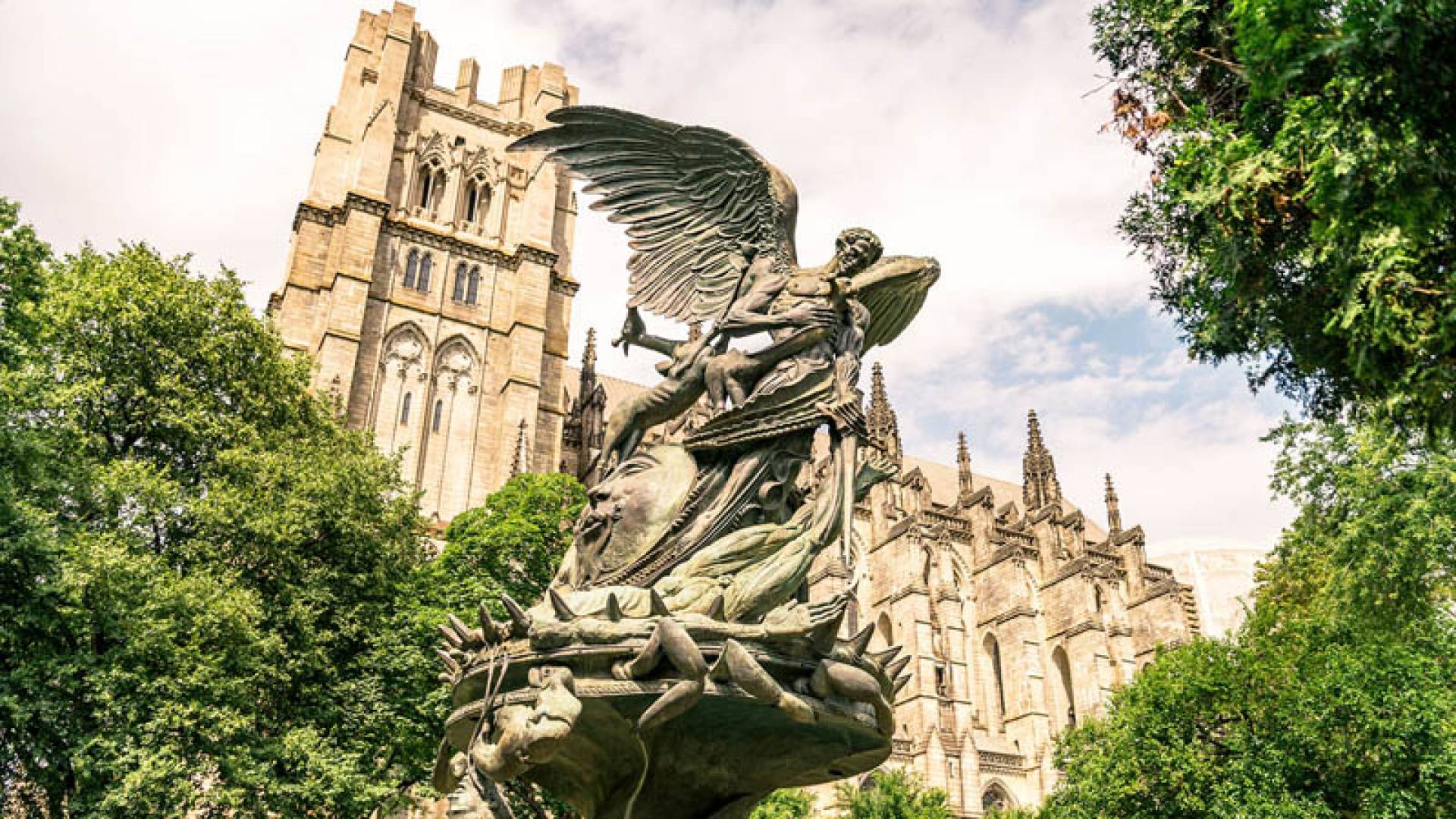 Audio File length: 2.23

Language: English
The Cathedral features a peculiar mix of Neo-Romanesque, Neo-Gothic and Neo-Byzantine architecture.
Starting with the main façade, still missing one of the two towers, focus on the imposing Great West Doors in the center, decorated with bas-reliefs featuring scenes from the Old and New Testament, as well as scenes from the Apocalypse, depicted in modern style at the foot of the sculptures of the prophets at the sides.
If you look closely, below the figure of Jeremiah, you can see the city of New York enveloped in a cloud of smoke caused by the destruction of its main landmarks, including the Twin Towers. What is unnerving is that the sculpture, begun in the 1970s, was completed four years before the 9/11 tragedy…
No less disquieting, however, are the figures depicted on the outer columns, including skulls, aliens, mummies and disturbing eyes that intrigue those fascinated by symbolism, especially Masonic symbolism.
Now press pause and enter the Cathedral.
It's impressive, isn't it? The seventy-meter Neo-Gothic nave is the longest in America, while the pillars supporting the imposing structure are 40 meters high!
As you approach the altar, surrounded by eight granite columns, you can admire the striking rose window behind you, composed of more than 10,000 pieces of glass and – you guessed it – the largest in the United States.
And talking of records, the main organ you can see in the choir, renovated after the fire in 2001, is the most powerful musical instrument of its kind in the world.
Behind the altar, you can see the seven "chapels of the tongues", designed in the style of the home countries of the first seven ethnic groups that emigrated to the USA after the opening of Ellis Island.
Before I go, an interesting fact: the Cathedral is also a vibrant center of art and music. In addition to the striking "Phoenix" installation by the Chinese artist Xu Bing, this lofty place of worship also hosted a performance by Sting in 2009, to promote "If on a Winter's Night".