THIAN HOCK KENG TEMPLE, Introduction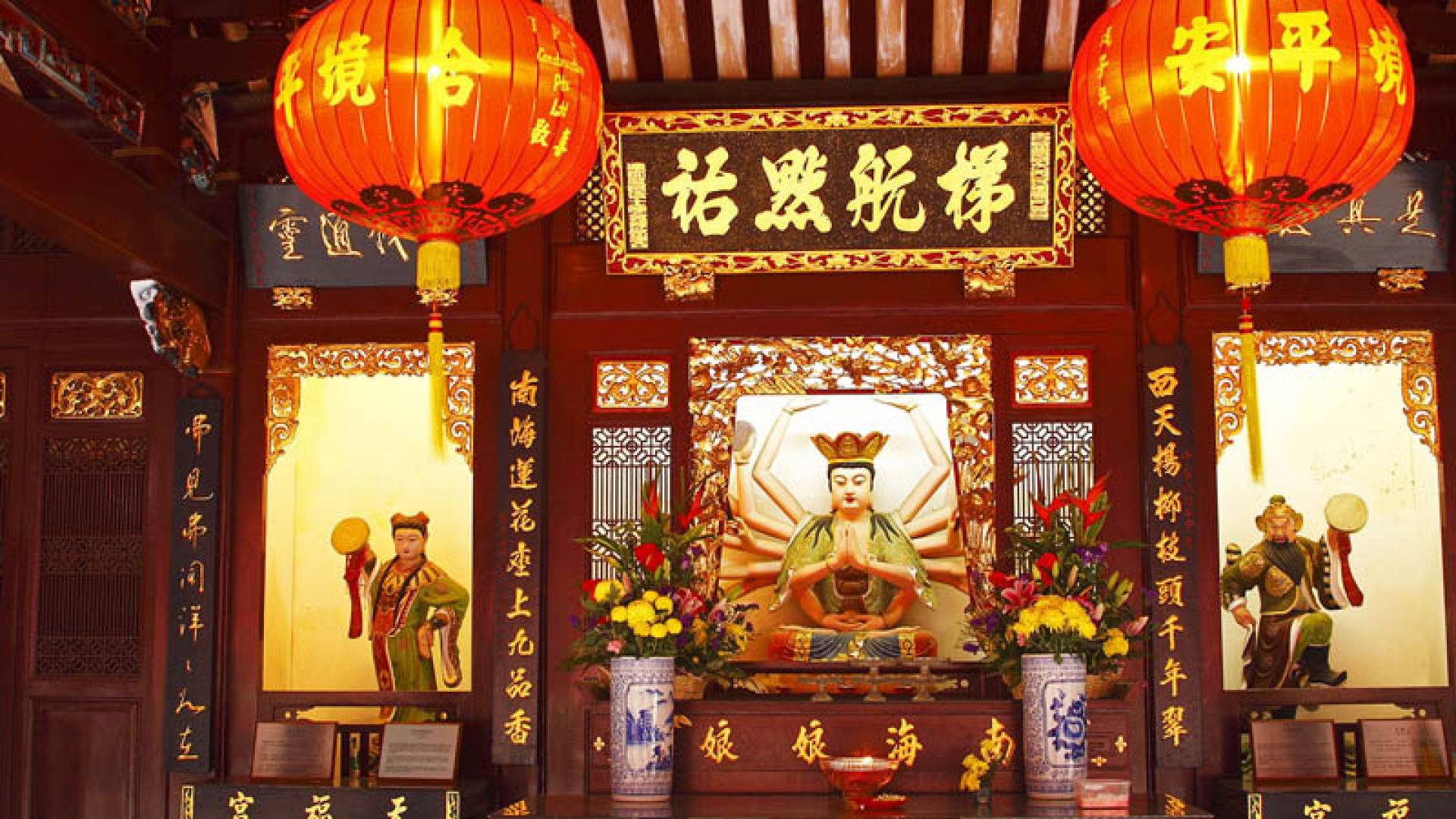 Audio File length: 2.25

Language: English
The Thian Hock Keng Temple is the oldest Chinese monument in Singapore.
Dedicated to the Chinese sea goddess Mazu, the temple was built on the site of an earlier shrine by the Chinese Hokkien community, who arrived here from Fujian in southern China, between 1839 and 1842. This shrine originally stood on the waterfront, and it was here that the Chinese seafarers arrived in Singapore before the land reclamation shifted it to the end of the street.
The complex is built in wood, in traditional Chinese style, featuring a group of pavilions with curved roofs clustered around a courtyard.
The actual temple is the building in the center. At the sides, you can see two pagodas with octagonal bases: the one on the left is a shrine to Confucius, while the one on the right houses the ancestral tablets of the Hokkien immigrants. Behind the temple is another courtyard, with a smaller altar dedicated to Kuan Yin, the goddess of mercy. The aisles on either side lead to the monks' quarters.
In keeping with tradition, the temple consists of three halls.
The entrance hall, with one main door and two side doors, is decorated with painted tiles featuring peacocks or roses, and with the Buddhist swastika motif that symbolizes good fortune and eternity. The doors are guarded by the traditional sentinels of Taoist temples: stone lions and Door Gods.
The entrance hall leads onto the main courtyard, where you can see the statue of Mazu, brought here from China. The decorative colored tiles, the red, black and gold lacquered wood, the dragon and phoenix figures and the painted and gilded beams and ceilings visible both here and in the courtyard at the back are all typical elements of Fujian style.
Don't miss the outside walls of the Temple and the mural by the well-known artist from Singapore, Yip Yew Chong, which illustrates the history of the city's Hokkien community.
Let me leave you with an interesting fact: on the right side of the temple, you can see the statue of a man with Indian features carrying a beam. It was placed here as a gesture of thanks to the Indian community, who helped build the complex.